26 Jul 2022
Renting your own private beachfront villa in Akumal has quickly become the preferred way of travel for groups of friends and family visiting Riviera Maya. Locogringo has found the 20 the most popular properties thanks to their location, accessible rates, and great reviews.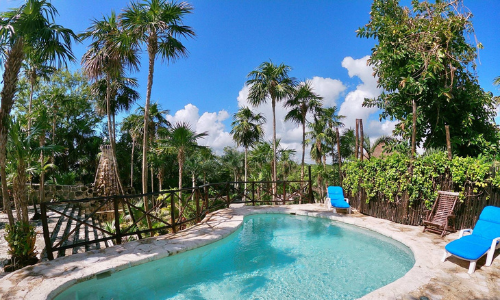 UNCLE JOHN'S CABIN REDUX
Guests from Saint Paul, MN United States
"We recently returned from spending a great week at Casa del Sol. We made extensive use of the pool and outdoor kitchen facilities as well as the private access to snorkeling in the lagoon. We enjoyed the proximity to La Buena Vida, La Lunita and El Pescador."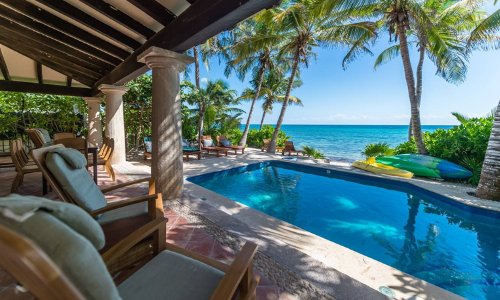 CAN'T WAIT TO RETURN!
Guests from The Woodlands, TX United States
"We had the best vacation at Casa San Francisco and can't wait to book again! The house and property are accurately pictured in the listing and the home is well-maintained. The property manager Guille could not have been more genuine and helpful and we enjoyed our conversations with her throughout the week so much. Do yourself a favor and book a home-cooked meal (or several!) - Guille will take care of all the details and you will not be disappointed in the food - it was an amazing value and such a treat. We would not hesitate to book here again - it's a perfect location for a relaxing vacation - beautiful, quiet and safe. Thanks for having us!"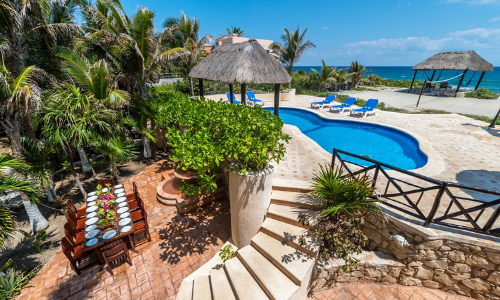 WONDERFUL VACATION!
Guests from Palos Hills, IL United States
"We loved having a pool to ourselves especially during Covid times. The property was beautiful and the lot was nice and large. We loved watching sunrise from the palapa by the water and the gardens of the property were stunning. The men with our group enjoyed interacting with the iguanas and one day a Coati walked across the volley ball court while we were in the pool."

5 STAR SERVICE
Guests from Arvada, CO United States 
"We had such an amazing experience staying at Casa Texana. The hosts, one being Gavi(sp) were amazing, along with the food and drinks they prepared for us two of the nights we were there, including check-in. The beds were comfortable. The home was clean when checking in and cleaned every day. We will definitely recommend to friends heading to Akumal. Thank you for everything Casa Texana, we had the most amazing stay!!"

AMAZING AND RELAXING VACATION! GORGEOUS PROPERTY!!
Guests from Glen Allen, VA US
"There were 5 couples celebrating my 40th! We enjoyed our stay so much!! Grounds were absolutely gorgeous, we spent most of our week just hanging out by the pool, laying out, eating under palapa, happy hour on the rooftop. House provided a housekeeper and a groundskeeper. They were the most hard working people. This was one of the best vacations I had, everyone loved the house and the grounds!! Would love to come back again!!"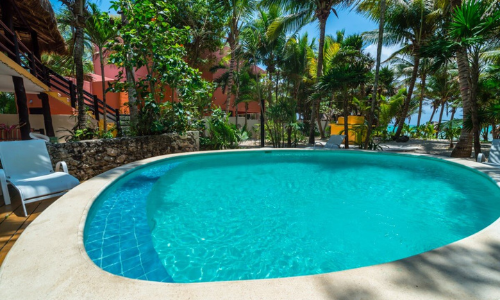 PERFECT RETREAT
Guests from Parker, CO US
"There were 4 couples who enjoyed this lovely slice of paradise. All beds and pillows were very comfortable. The main house and grounds were kept immaculate as well as the guest house. Plenty of outdoor seating and the ocean is just steps away. Truly a slice of heaven on earth. Noa and Elizabeth were the care takers and cooked us some fabulous meals...I highly recommend the shrimp kabobs and the empanadas! They worked hard every day cleaning, providing fresh linens, and grounds keeping. They also made arrangements for massages for 5 of us at the house which was perfect. We enjoyed the kayaks, we brought our own snorkel gear and enjoyed seeing the reefs and beautiful fish. Would definitely stay here again."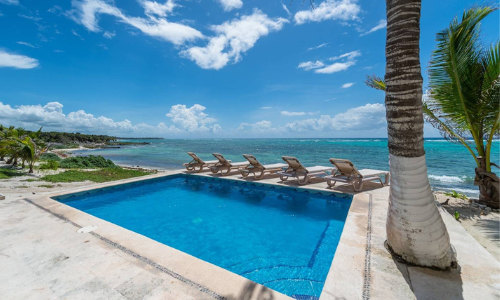 SUNRISES ON THE BEACH!
Guests from San Francisco, CA US
"We just returned from a fabulous week at Villa Turquesa with a group of 11 adults. It was a really wonderful house for our crew. There is plenty of space, we never felt crowded. The bedrooms are fairly basic, but it was nice for everyone to have their own bathroom. The kitchen was great, we cooked quite a bit so were glad to have 2 refridgerators, large pots, lots of plates and a table that comfortably seats 12. The outdoor area is fabulous. You can walk right into the water, or just enjoy the view from the deck. It was very quiet when we were there and had the beach to ourselves many days.
We felt very spoiled by Beto and team cleaning up everyday. And it was a great surprise to have dinner waiting for us on our arrival."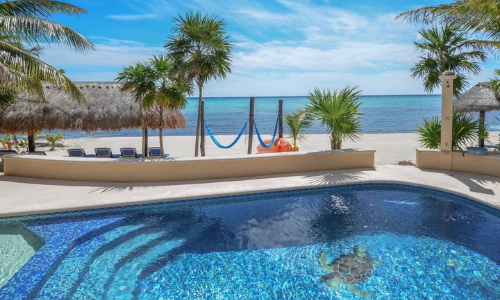 SOLIMAN BAY VACATION
Guests from Dallas, TX United States
"The setting was beautiful and tropical. We home was lovely and more than we expected. All the beds were very comfy! We spent almost all our time outside around the pool or on the beach. Both were beautiful. The grass was bad while we were there but they did a valiant job of trying to keep it manageable. Rosa, Paco & Sara are the best!!! The house was cleaned everyday. Beach supplies amazing. A lot of snorkel equipment. There is plenty of booze and other staples already there. No need for Beanutbutter or jelly!!! Highly recommend!!!"

BEAUTIFUL LOCATION, WELL-EQUIPPED HOME
Guests from Fort Collins, CO United States
"We stayed at this property for a week in June. The home was lovely, very well maintained and exactly as pictured. Grounds and pool are tended to every day by Neri, and each morning, Paty came to provide housekeeping service and make us breakfast. It's next door to a very good beach restaurant, a 15 minute walk along the beach to Akumal Village, and a short drive to the Village. Kayaks were super fun, and the pool and covered patio were a great way to end the day after ATV adventures, Coba, snorkeling, Yal-ku, etc. Concierge promptly answers questions and can provide information on activities."

PERFECT PRIVATE GETAWAY
Guests from San Antonio, Texas USA
"We just got back from an eight day stay at La Sirena. Plenty of beds and rooms to keep the peace in our large extended family! The house and grounds are breathtaking. We especially enjoyed walking to town for breakfast every morning, the proximity to so many local archaeological and natural wonders, snorkeling right off the property, and ending each day with a relaxing dip in the immaculate pool (especially at night when the invisible edge of the pool makes a wondrous glow against the crashing ocean waves). Too many nice touches to mention. We met so many nice people in the village, but felt that Scott, Katie, Sergio (pool maintenance) and Alma (housekeeper) were especially friendly and helpful - they put up with my broken Spanish and patiently helped me learn new words. We are already planning a return trip to La Sirena!"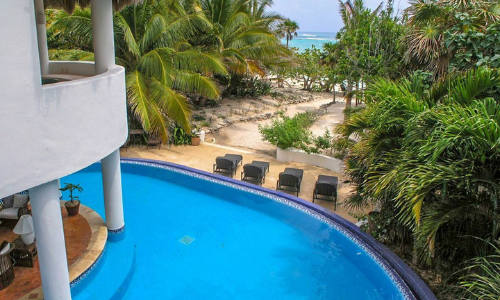 THIS WAS TRULY THE MOST BEAUTIFUL VACATION DESTINATION I HAD EVER EXPERIENCED.
Guests from Ann Arbor, MI US
"The house was spactacular! It was emaculate. The rooms were fully equiped and very clean. The grounds were lush, and as you walk towards the blue ocean, the palms all around were tall and full. At night the full moons light shined on the water as the warm wind blew. It was so romantic and breath taking. Twenty minute drive south takes you to a very modern grocery store and the citg of Tulum. Anita and her husband Chino (care givers) cooked a delicious dinner for seven on one night. The only thing was the pool was not warm, but was okay to swim in. The longer you remained in it the warmer it felt. The hot tub could only be turned on by the care giver, which, was a bit weird after a while. All else was sheer bliss! I do plan on coming back and staying here again with my folks next time."

AMAZING HOME IN AMAZING AKUMAL!
Guests from Mexico
"My family as I had such an incredible relaxing time! The house was perfection for us. It embraced the feel of Mexico with all its traditional architectural features, decor around the house and bright colors! Super spacious and perfect for a huge family trip, spent everyday outside by the pool and enjoyed the water sports too!"

GREAT FAMILY VACATION
Guests from South Hamilton, MA United States
"This was our second year at Casa Salvaje and it's our favorite! The pool and beach are so perfect for our kids. We absolutely love Akumal and even had a couple fun trips to Tulum. I couldn't recommend the accommodations, location or experience more!"

BEAUTIFUL OCEAN VIEWS!
Guests from Evergreen Colorado
"We visited Casa Cavu 11 years ago. It was fun to come back! The house is still a little jewel.
The care takers are wonderful! Akumal Direct was very helpful with answers to our questions before our arrival.
Casa Cenote Restaurant is just a short walk down the beach from Casa Cavu, and well worth it!
We hope to return again, some day!"

BEAUTIFUL HOME AND WONDERFUL VIEW
Guests from Shelbyville, KY United States
"We had a wonderful time at Casa Alux. We were three couples and this set up was perfect. The pool is great and the grounds were very well manicured. It is located in an area of many restaurants within walking distance. The houses were very clean and daily maid service was a bonus. We would definitely love to return."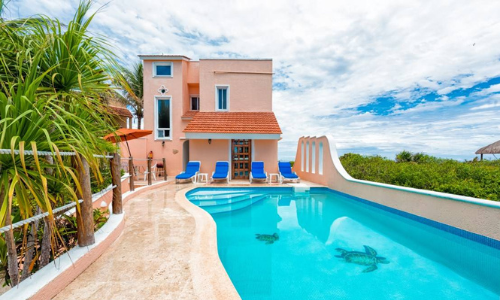 PERFECT LITTLE CASA
Guests from Wauwatosa, WI United States
"This was our fourth time back and it's so nice being on the water with our own pool. Mari and Roberto continue to do an awesome job keeping the place maintained. Laundry is an added benefit to help limit packing and make less work for when you return home. Location is great and privacy is great. I'm sure we'll be back again."

NICTE HA
Guests from Jamaica Plain, MA United States
"Loved the house. Perfect for 6 of us. Each bedroom had its own bathroom.Nice to have daily maid service as there is no dishwasher. Lots or privacy because houses next to us were vacant. The pool was lovely but a bit cold.Gorgeous views!"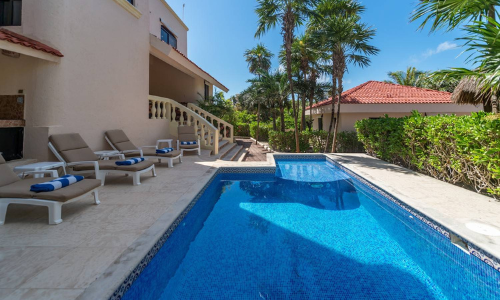 INCREDIBLE IN EVERY WAY!
Guests from Bridgewater, MA United States
"This house is immaculate and the views can't be beat. Armando and Daisy take incredible care of the house and of the guests. Their cooking beat all the trendy restaurants in Tulum. I have not a single complaint about this house. Favorite parts: The rooftop deck for staring at the stars. The immaculate beach right outside our doors. Lassie the dog greeting us every morning. Cooking in the state of the art kitchen."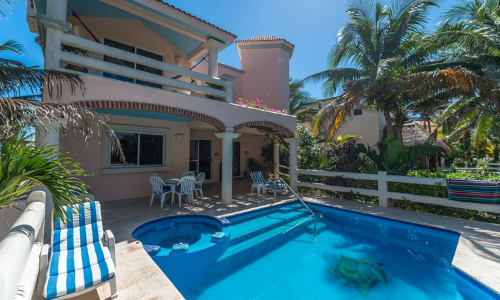 PERFECT FAMILY HOME
Guests from Houston, TX US
"Family vacation at Casa Dos Palmas was awesome! Pictures do not do it justice. Location is beautiful, safe and secure. Our family consisted of 8 adults and 3 children, home was very spacious and accommodating. Thank you Dos Palmas for a wonderfully stay, will definitely go back!"

BEAUTIFUL HOME ON THE BEACH!
Guests from Mexico
"Everything went perfectly with the house and property. It is a nice home, well kept and has many great features. The caretaker and housekeeper are both nice and they were very attentive. The guard service was also appreciated. The safe upstairs should be fixed and an oven would be nice. Thanks for a great stay!"
Find hand-selected places to stay in Riviera Maya and experiences we know you will enjoy. Contact us to get personalized service and exceptional value with no booking fees.