25 Jul 2022
These vacation rentals are centrally located in Riviera Maya's most family-friendly getaway, Akumal. This small fishing town is known for its low-key Caribbean vibes, great food, and year-round water activities including swimming with sea turtles. 

RESTFUL IN AKUMAL
Guests from Kiel, WI United States
"The location was perfection. We were so happy to have chosen Akumal over PDC or Tulum. If we were to go again we would probably do less sight seeing, and enjoy the property more. The management is concierge level from booking through followup after getting home. Don't hesitate to book here."

WOW!
Guests from Brunswick, NJ United States
"I would have stayed in this unit for the rest of my life, haha! To be able to watch the sunrise from your bed is something I will never forget. Everything about the apartment was just perfect - stylish, clean, well equipped. It was simply perfect. I can't wait to return!"

PARADISE ON THE BEACH
Guests from Harrison, AR United States
"Perfect place for couples to get away. Beach and ocean just footsteps outside your door. Great place to unwind. Five minute drive from Akumal. Kitchen well stocked. We will definitely be staying again!"

VERY PLEASANT STAY
Guests from Big Sky, MT United States
"La Sirena was an ideal spot to spend our vacation. The location at the north end of Half Moon Bay minimized the impact of the seaweed and provided an easy entrance for snorkeling. The top floor unit was breezy and cool in the day and had a great view of the bay. The staff were very helpful and efficient and the place was spotless. The large pool was clean and inviting, and the garden was beautiful."

GREAT LOCATION RIGHT ON THE BEACH!
Guests from Centennial , CO US
"We are a family of 4 (2 teens) and we thoroughly enjoyed this low key, relaxing spot. The condo was clean and the daily cleaning service was good and convenient. Beach towels and bath towels provided. Good snorkeling right in front of the condo so it's worth bringing your goggles and flippers. Water shoes are recommended as the water is shallow and rocky underfoot. A rental car is a must for getting around. Restaurants are nearby if you want them. The Property manager is responsive. We definitely want to come back again!"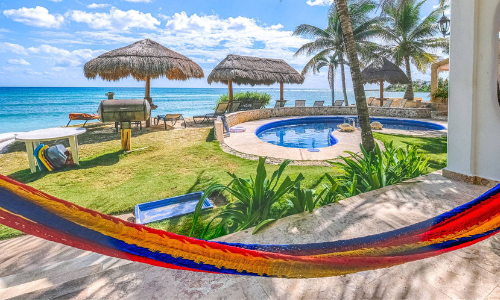 50TH BDAY
Guests from Mexico
"I came to Akumal and we rented two of the condos here. We had the best time. Everything is beautiful and the location cant be beat. Very friendly and helpful staff."

PARADISE ON THE BEACH
Guests from Paradise, CA US
"Beautiful spot smack dab in the middle of Half Moon Bay. Loved the location. Away from the hustle and bustle of the bigger towns. Top notch restaurants nearby and plenty of amenities. The unit was super clean and the air conditioning was a God send. The beds were super comfortable. Can't wait to return. Thank you."

5 DAYS IN AKUMAL
Guests from Dickinson, TX United States
"Loved our condo on the beach! daily housekeeping was great! kitchen had all you need. store short distance to walk to. two restaurants in walking distance as well. We rented a golf cart which I recommend to see more. Beach area and pool area was well maintained each day. Loved it!"

SUPER CUTE CONDO WITH SPECTACULAR VIEWS!
Guests from University Place, WA United States
"We loved this cute condo! It had all that we needed for our stay in Akumal. It was very nicely decorated and the bed was super comfy. The view from the deck was unbeatable!! The onsite staff was very friendly and helpful. I would not hesitate to book this condo again!"

LAS CASITAS AKUMAL
Guests from Mexico
"Excellent. Check in was easy and smooth. Check out even easier. Security was top-notch. Housekeeping was excellent and friendly. Use of bicycles and paddle board was much appreciated."

BETTER THAN A 5 ⭐️⭐️⭐️⭐️⭐️HOTEL
Guests from El Paso, TX US
We are Marriott Vacation Club owners, and this Condo as good or better than any MVC unit. I love the view of the ocean from the master and living area. It was a wonderful experience. Unfortunately, the beach was full of sargassum but it was to be expected because of the season. Thank you Akumal Direct, we had a great stay!
Find hand-selected places to stay in Riviera Maya and experiences we know you will enjoy. Contact us to get personalized service and exceptional value with no booking fees.