16 Dec 2022
12 Things To Know About Riviera Maya Before You Go
Millenials, Gen X, Gen Z, and even Boomers from the U.S. are choosing the beaches of the Yucatan peninsula as their beach destination of choice.  Over the last century, the Yucatan peninsula has created a loyal fan base by allowing travelers to choose the vacation experience they most want from a thriving metropolis beach like Cancun to a low-key cabana off the beaten path.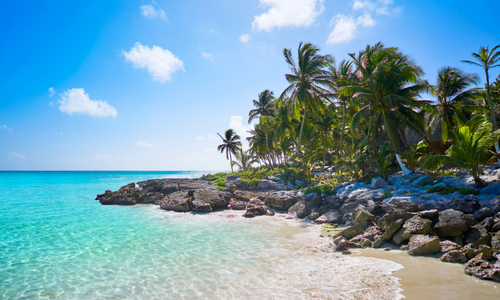 Ever growing and ever-changing
Riviera Maya has certainly evolved over the last few decades transforming itself into a world-renowned travel destination.  In 2019, Cancun alone welcomed roughly 6 million international tourist arrivals to hotels. Locogringo's local team has shared some interesting truths about the area to help guests on vacation this year. 
1. Cancun was the second most visited destination in 2022 and is already trending as the most sought-after destination for the first quarter of 2023.  Thanks to its infrastructure travelers can customize their vacation to the experience they most want, from all-inclusive resorts to private beachfront vacation rentals.
2. Construction of a new bridge at Cancun's International Airport is expected to impact traffic to and from the airport.  Travelers are advised to add an hour or two of travel time from their accommodations to the airport based on their location. 
3. Riviera Maya spans over 130 KM (about 80 mi.) of the Yucatan coastline connected by a single highway making it simple for travelers to navigate through the area via airport shuttles, taxis, or car rentals. 
4. In 2022, Cancun International Airport became part of a pilot program to go paperless, requiring visitors must complete an Official Entry Immigration Form or Tourist Card. As of Jan. of 2023 international arrivals are no longer completing forms but have their passports stamped upon entry for a period of 180 days.
5. The official currency is the Mexican peso and practically all destinations along this coastline accept major credit cards and has at least one ATM.  That said, it's best to get pesos in cash too for tips or when visiting more rural communities. 
6. High-Speed Internet is available almost everywhere but not necessarily the same speeds visitors from the U.S. may expect.  Travelers expecting to work remotely should verify that their destination has the technology they require before booking.
7. Riviera Maya's 80 mi. of beaches offer a wide variety of landscapes and activities suitable for friends and families of all ages. Each beach has its own character and terrain, from thriving cities to remote and quiet beaches so travelers can choose the experience they most want.  
8. The world's second-largest coral reef, a.k.a. the Meso-American Reef, stretches across the Riviera Maya shores making it one of the top destinations among SCUBA divers and snorkelers. Its low-stress environment makes it a great spot for recreational diving and off-shore snorkeling.
9. No Plastic Bags. That's right, Quintana Roo has a ban on single-use plastic bags so if you're planning to do any grocery shopping be sure to bring reusable shopping bags. Of course, you can always purchase them at the counter too. 
10. No Uber, Lyft, or ride-share companies.  Taxis and colectivos (vans) are the cheapest way to move around locally.  There are also plenty of airport transfers to the more remote beaches that are accessibly and priced.
11. No Uber Eats, Door-dash, or food delivery apps. While not many restaurants deliver there are several food delivery and chef services in the area such as LoQSea.com, Riviera Maya Groceries, and Daveed Chef Services available across the coastline.  
12. Riviera Maya has over 700 kms of underwater caverns and almost 200 archeological sites sprinkled across the peninsula. Making it a great destination to explore ancient Maya Ruins, cenotes, and connect with nature too!