16 Sep 2022
One of the most popular questions Locogringo receives is how to get a Taxi to explore Riviera Maya when staying in Akumal. Known for its resident sea turtles, visitors can enjoy excellent snorkeling, restaurants, shopping, sightseeing, and discover the pueblo when they come to Akumal.  Of course, when visiting travelers may want to venture beyond their vacation rental to discover more amazing sites and a taxi can be a fast and easy way to move around.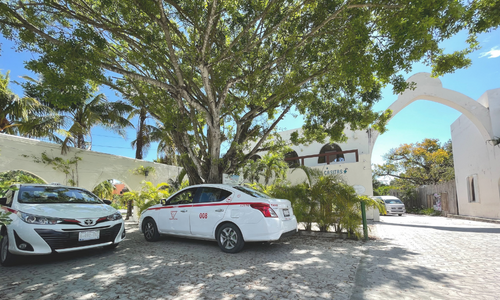 That said, there are pros and cons to using this method of transportation from any of Akumal's major destinations. 
Benefits Of Taking A Taxing From Akumal
Driving in Riviera Maya can be an adventure all on its own and a taxi driver spares you the aches and pains of driving in an unknown area.  

Despite Riviera Maya Cancun to Chetumal being connected with a singly highway that's relatively a straight shot, not all entries are properly signaled and usually, some parts or parts are under major construction. 

Public modes of transportation such as the colectivos are constantly shuttling workers to and from resorts at breakneck speeds making the highway a bit risky for drivers hoping to go on a peaceful day of sightseeing.  

Plus, people are known for randomly popping out and darting across the highway at any given moment so taxi drivers are well versed in defensive driving.  

In addition, not all entrances are marked according to traditional international standards so identifying the right turn off, turn around, exit or entrance can be a challenge or even ruin a day meant for fun.
Problems With Taxis In Akumal
A common complaint about using a taxi as your only way to move around Riviera Maya is finding one in Akumal and having it arrive fast enough. A good rule of thumb is to expect to arrive at least 30 minutes after your call. Sometimes it may take less but sometimes it can take up to an hour or more. Especially, during rush hour. 

Taxies are unionized in Mexico and therefore must be stationed at their assigned post. This official position is called "Sitio", in Akumal, there is one in the pueblo, another by the arch at the entrance to Akumal Bay, and several strategic locations on the highway. 

Another hiccup is that they can only be contacted directly via phone or Whatsapp and more often getting a bilingual operator is not always a possibility.  So language barriers can be an unsurpassable challenge.

Finally, and probably the biggest issue with a taxi being the sole mode of transport while vacationing in Akumal is price. A one-way trip from Akumal to Tulum ruins (not the town) for 1 to 4 passengers is $650 MXN, roughly $30 USD, so about $65 USD round trip with a tip. The price increase or decreases based on destination and number of passengers so based on the size of your party and expectations to move beyond Akumal taxis can get quickly become expensive.
How To Get A Taxi In Akumal
Walk to any of the official station posts marked as SITIO. These are identified as you'll see a white cab or more parked in position. 

Call Akumal Taxis via phone at +529848759056, this is a landline so no texts. Note that there is an additional charge of $200 MXN if you order a cab to go into Akumal Norte (inside the arch).

Call or Whatsapp Taxis at +529848712101, they will communicate with the station in Akumal and send a cab to your location. 

Ask your concierge, your concierge is well versed in maintaining contact with Taxi central or might even have personal cab service available.  If you're traveling with LocoGringo, our concierge will be more than happy to help you plan your pick-up at no extra charge. 
How Much Do Taxis Charge
All Taxi drivers must present their official rate guide which displays prices based on the number of passengers and destination.  This image shows the most current rates for taxis in Akumal as of September 2022. Granted prices are subject to change so please contact us to ensure you have the most recent pricing available.