20 Aug 2022
September is a pivotal month in Akumal and perhaps the best time of the year to visit Riviera Maya's most celebrated family-friendly destination.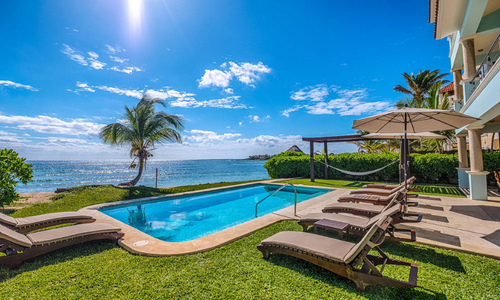 Couples and groups of friends searching for a relaxing vacation know late summer is the perfect time for a getaway to paradise. Of course, knowing what property to choose is key for a successful vacation in Akumal. These beachfront vacation rentals offer guests the views, location, and service regardless of beach conditions. 
Villas
These properties feature spacious living spaces indoors and out, fully equipped kitchen, plenty of bedding for 10 - 12 guests, and direct access to some of the best snorkeling in town. 
Villa Sirena is a smart 4-bedroom vacation home, overlooking the Mexican Caribbean from Akumal, between Yal Ku Lagoon and Half Moon Bay.
Casa del Sol is well known for its great location, right at the headwaters of Yal-Ku Lagoon, very private, and for its funky eclectic decor.
Casa Christensen is about peace and privacy, beauty, design, and nature. Expect to Relax and reconnect with yourself and your loved ones.
Villa Fortuna provides plenty of opportunities for you to make new memories with family and friends or to relax, renew, and refresh your spirit on Half Moon Bay.
Condos
These beachfront condos and townhomes offer guests 1, 2, and 3 bedroom options along with the best beach and budget-friendly prices.
Las Casitas is located right on Akumal Bay so guests can enjoy the very best from sunrise to sundown. Plus, each casita has its own private beachfront patio garden for a front-seat view of paradise. 
La Iguana this affordable one and two-bedroom suites in Akumal offer floor-to-ceiling windows, bright and airy living spaces, and direct access to snorkeling
Nahil condos offer guests a quality vacation with modern amenities and an amazing beachfront swimming pool. 
La Sirena offers guests captivating views of the Caribbean, much-desired privacy, and a budget-friendly taste of a classy vacation.
Yool Caanal is a quiet and well-priced beachfront property in the heart of Akumal, each 2-bedroom suite features a large terrace that overlooks the azure waters of the Caribbean.
Find hand-selected places to stay in Riviera Maya and experiences we know you will enjoy. Contact us to get personalized service and exceptional value with no booking fees.