24 Nov 2021
BETTER THAN BLACK FRIDAY DEALS
These vacation rentals are the perfect last-minute getaways before premium rates go into effect this winter. Continue celebrating Thanksgiving or start ringing in the New Year early and escape to the most sought-after beach town in Riviera Maya. Get on Google Flights to get your airfare and book one of these amazing beachfront deals.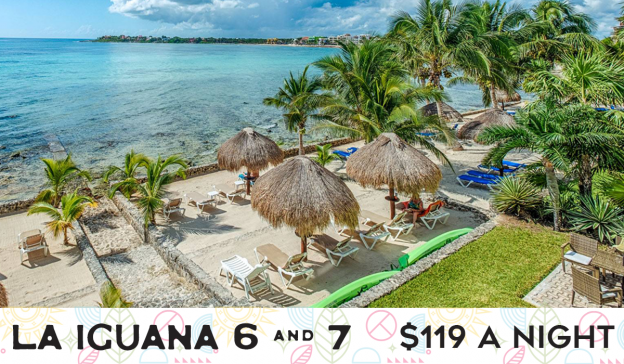 The most amazing views of Half Moon Bay are to be found while staying at La Iguana Condos. La Iguana 6 & 7 are one-bedroom suites, featuring floor-to-ceiling windows, bright and airy living spaces, and direct access to snorkeling. And, did we mention that they are also some of the best-priced condos in the area.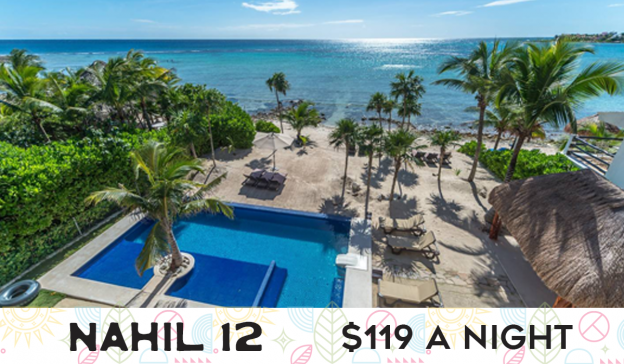 Nahil #12 has everything you need for a luxury vacation without the high price tag. This garden studio is on the 2nd floor and overlooks lush tropical gardens and is just steps from the stunning beachfront swimming pool and beach. This well-appointed studio features a queen bed and updated decor, appliances,  A/C, WiFi internet, maid service, and a smart TV with Netflix.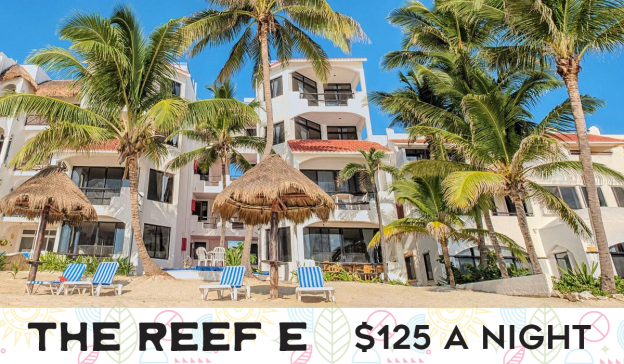 Experience the Caribbean lifestyle in this 2 bedroom beachfront condo on Halfmoon Bay, Akumal. The Reef unit E is a comfortable, affordable, and well-appointed vacation rental for up to 5 guests, perfect for friends and families. Located on the second floor, The Reef E offers stunning views of the ocean from the kitchen, living room, dining area, and spacious balcony.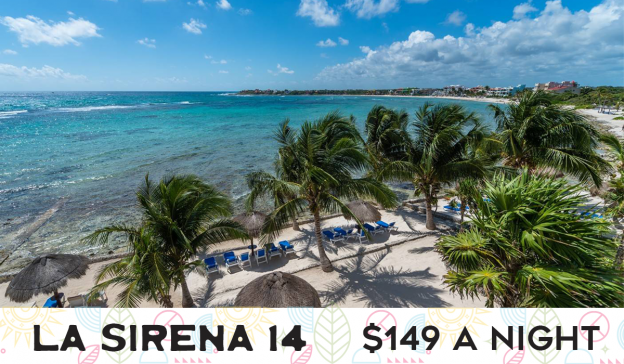 La Sirena #14 offers its guests captivating views of the Caribbean, much-desired privacy, and a budget-friendly taste of a classy vacation.  This condo features an open living and dining area, 2 spacious bedrooms, a cozy kitchen with a raised breakfast counter, two lovely bathrooms, and a relaxing terrace with views of the ocean and the lush tropical forest to the north.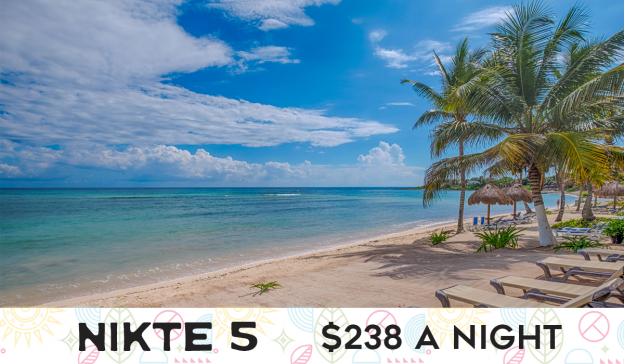 Nikte No. 5 is a spacious two-bedroom, two-bathroom unit with modern designs, spectacular finishes and plenty of opportunities to enjoy the glittering Caribbean Sea and lush, green jungle surrounding you. Nicte 5 comfortably sleeps up to four people, a fantastic option for a family or small group.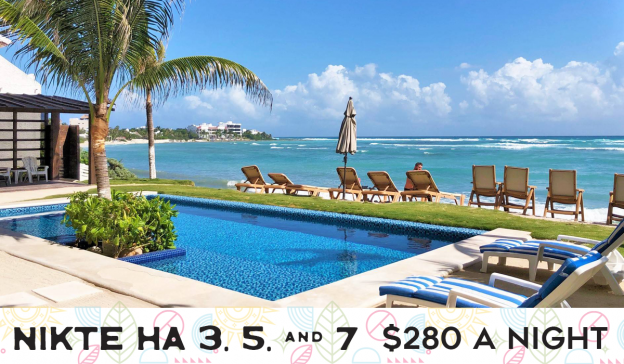 Nikte Ha Condominiums in Akumal offer ocean views, contemporary design, and charming touches so that you can enjoy the Caribbean Sea and lush green mangroves without sacrificing comfort or style. Dazzling panoramic views over the expansive pool and Half Moon Bay reveal white-sand beach and brilliant blue water. A private, beachside pool is just steps away from your door.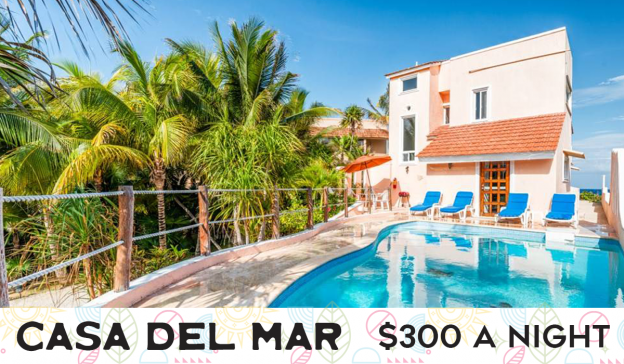 Set within one of the Caribbean's most idyllic sea villages of Akumal, Riviera Maya – Casa del Mar is a perfect getaway for couples and families looking for a relaxing and memorable beach vacation. This two-level villa is composed of 3 well-furnished bedrooms and tastefully decorated main living areas, accommodating up to 7 guests. Lovely Mexican antiques and thoughtful design touches found throughout the house make you feel at home.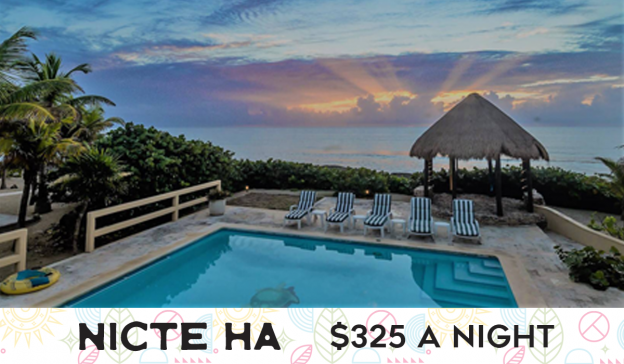 Featured in Architectural Digest, Villa Nicte Ha offers plenty of opportunities to take advantage of the sun, sea breezes and stunning views of the aqua-blue waters of the Caribbean. Balconies and sun decks extend out from all rooms, showcasing magnificent views of the North Akumal. A grand swimming pool and a spacious pool patio, furnished with soft lounge chairs, create a perfect oasis to cool off and tan.
This Offer Won't Last Long
Book directly on our website or contact us for a custom quote to book the vacation rental you most want. These special rates are only valid on stays prior to Dec. 17, 2021. Discounts can only be applied on new reservations and cannot be accumulated with additional discounts.