19 Apr 2018
Playa del Carmen locals love visiting the area's beaches, especially on weekends. And there's one hidden local beach that's far enough outside the center of the city to remain unknown to most tourists: Punta Esmeralda.
Here, you'll find an open cenote that flows right into the Caribbean Sea, as well as a wide, white sand beach. Also known as "Playa Esmeralda," Playa del Carmen Punta Esmeralda has become a favorite among local families (especially kids) for its absolutely perfect swimming conditions and untouched beach. And yes, access is completely free.
How to Get to Punta Esmeralda
Getting to Punta Esmeralda is easy once you know how to find it, reachable by car, by taxi, or on foot from Downtown Playa del Carmen. The small beach access road is set right on 5th Avenue near Calle 110 Norte (just north of Paradisus resort), and you can park your vehicle all along the access road free of charge.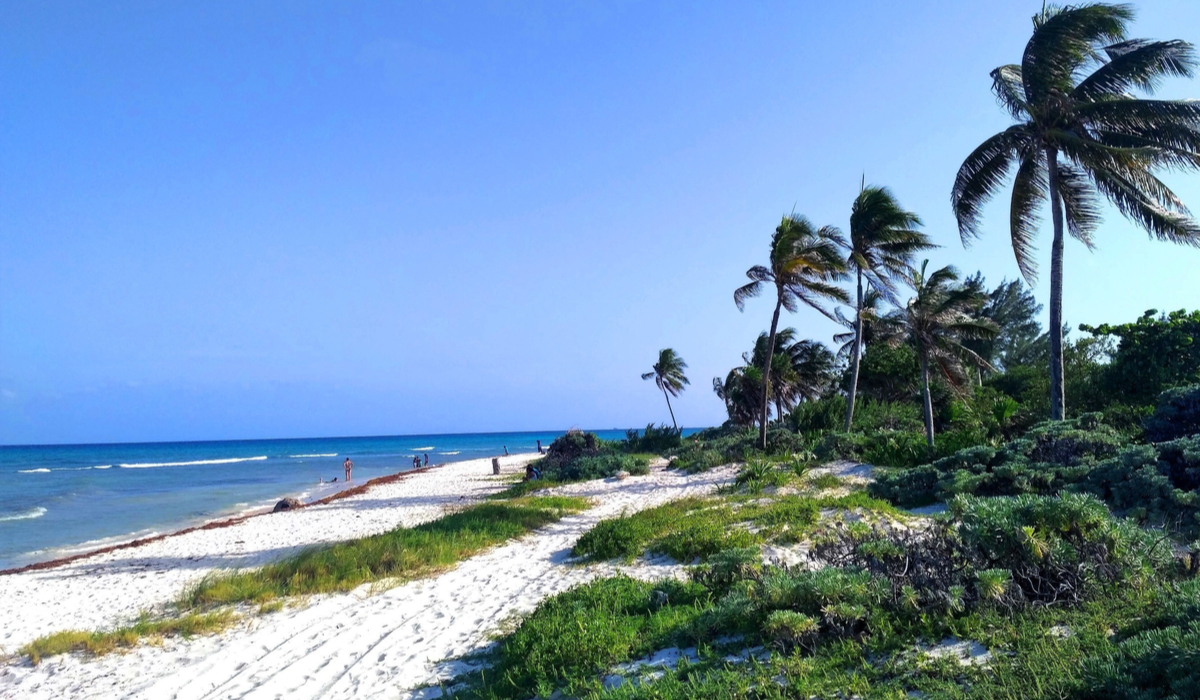 Things to Do at Punta Esmeralda Beach
Of course, the main highlight of Punta Esmeralda is its completely open coastal cenote, whose clear, serene and shallow water make it ideal for little kids, almost like a natural splash pool! (Keep in mind that kids should keep their distance from the hole on the far side that connects the cenote to the underground river system.)
Visitors also love relaxing and playing on the extensive, nearly untouched white sand beach with its calm and shallow conditions. Off to one side is a wooded area with picnic tables and plenty of shade, as well as a playground for kids of all ages. The downside: No public restrooms and no beach loungers for rent.
If you get hungry during a beach day at Playa del Carmen Punta Esmeralda, you might see food vendors strolling up and down the beach selling snacks or even pizza. There's also a food truck (specializing in seafood) at the northern end with tables and restroom facilities.
Tips for Your Playa del Carmen Beach Day
Every beach in Playa del Carmen is different! Here are our tips to make your day at Punta Esmeralda as comfortable, easy and eco-friendly as possible:
This beach has very little shade and no loungers for rent. The few available palm trees are quickly occupied by other beachgoers. We recommend bringing a beach umbrella if possible, and maybe some collapsible beach chairs if you want to be even more comfortable.
Keep the beach clean! The local community is adamant about picking up trash and organizes frequent beach cleaning campaigns for Punta Esmeralda, so do your part by bringing a trash bag where you can dispose of all your food containers, napkins, etc.
If you bring your own vehicle and arrive early, try to turn your car around when you arrive and park with your car facing the exit. The access road is narrow and fills up quickly, making it hard to turn vehicles around when you want to leave.
If possible, avoid visiting on Sundays, which is when local beaches are by far the busiest. Early mornings are also ideal since most people begin to arrive around 11 am and later.
Wondering where to stay during your next trip? Take a look at our list of charming accommodations in Playa del Carmen.