7 Nov 2019
Mexican snacks are abundant. There are salty, crunchy, sour and sweet options that most North Americans have never heard of. We can report that they are really, really good, but once you try them, they do become addictive.
First the history, as Mexican eating habits are so very different from the North American eating schedule. I would say there is more similarity to the European eating schedules where eating come first and work comes second.
North American meals on the other hand are built around our work schedule. Breakfast on the run is an acceptable practice as we commute to work, get kids ready for school, and run to early morning meetings. Lunch is small and dinner is the big meal at the end of the work day.
With the Mexican eating schedule centered around, eating, then a day will look like this. A big breakfast is a must where families eat breakfast together. Lunch is the biggest meal of the day and two hours is set aside for comida. Dinner is small bites in the late evening after the later work day is finished.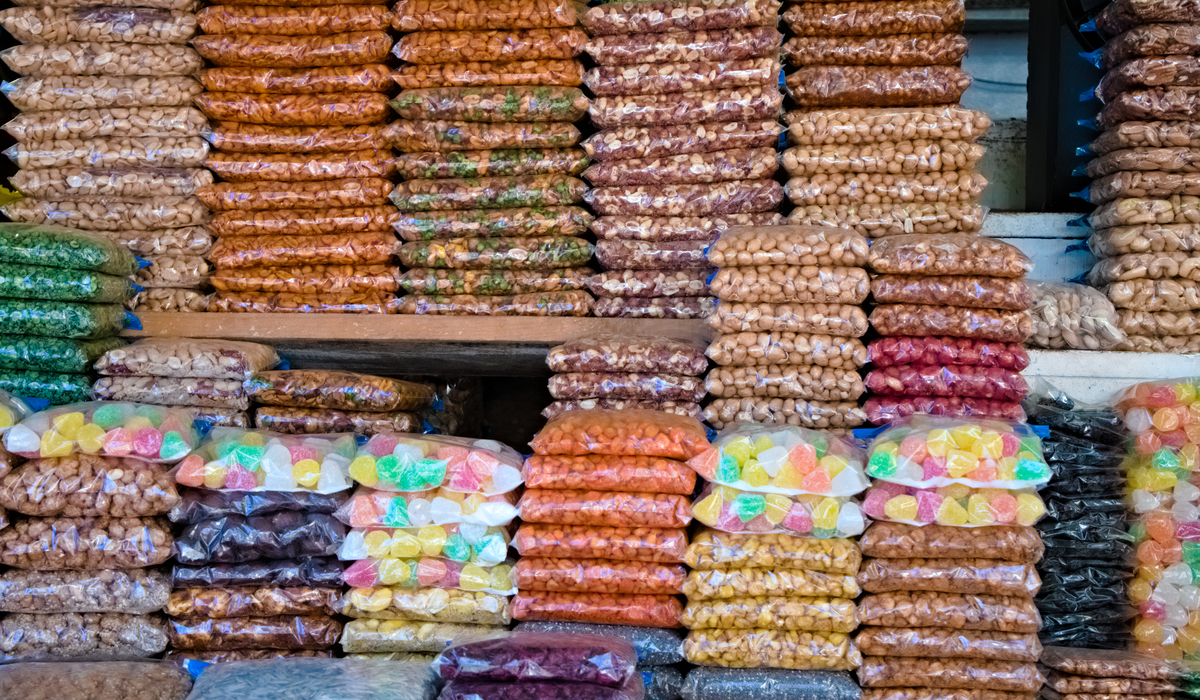 Mexican Snacks Beyond the Popular Taco
So what then would be a snack? What would be served for dinner or at cocktail hour (8PM) if the main meal of the day is served between 2 pm and 4pm?
Tacos are the most popular snack around, and served for dinner often. Unlike us North Americans who make huge chocker block full tacos, authentic Mexican tacos are small, have one or maybe two ingredients and are easily hand held. We have shared so many taco recipes on our blog and encourage you to have a look at the secrets we have shared:
Another all time favorite snack is Pumpkin seed salsa and we share the recipe on this blog post.
With Mexican food so popular these days, these local favorites are now found all over the world. Chips and salsa are now found everywhere so what are some unique, local snacks that we can only find in Mexico?
Cachauates Japonesa – These covered peanuts can be found in any local store. They are crunchy, yummy and so very addictive! As a cheap snack, you will love munching on some of these during cocktail hour.
Tamarind Candies – These salty, sweet and spicy candies come in so many forms. These are cheap as well, so pick some up at your local store and just give them a try.
Donitas – These fried and airy snacks are sprinkled with salsa. They are delicious, and again addictive. You will find street vendors selling them at the beach packaged without the salsa but as soon as you order them, get ready for the salsa to be added!
Fresh Fruit and Vegetables with Chili and Lime – This treat is so wonderful. Mangoes, oranges, jicama, cucumber, melon, watermelon, you name it. These fresh treats sprinkled with lime and chili are delicious.
Esquites – This roasted street corn is really, really good. Again locals love to put cream, lime, chili, mayonnaise, and other cool stuff on the corn. This is not sweet corn, it is white corn so the more condiments you put on the better it tastes!
The Best Place to Try Mexican Snacks
There is a cultural tradition that can't be missed, the local cantina. When you sit down for drinks in these bars, snacks are free. It was a way to get workers to come in and drink but have a reason to stay. This is the best place to experience and try traditional snacks. With all things vintage, the cantina is back on the rise, which means snacks are becoming popular again. If a cantina is not your thing, go to the local grocery store and check out local snacks. They different from North American snacks and definitely not Tex-Mex nachos, but I have to say, Mexican snacks rock!