28 Apr 2023
Where to eat in Riviera Maya!
If you're planning a trip to the Riviera Maya and wondering where to dine, we've got you covered with 10 all-time favorite restaurants in the region. From fine dining to casual, these restaurants are sure to satisfy your taste buds and provide an unforgettable dining experience.
1. Cancun, Ilios
This restaurant offers a Greek-inspired menu, with a wide range of seafood, meat, and vegetarian options. The ambiance is chic and modern, making it a perfect place for a romantic date night.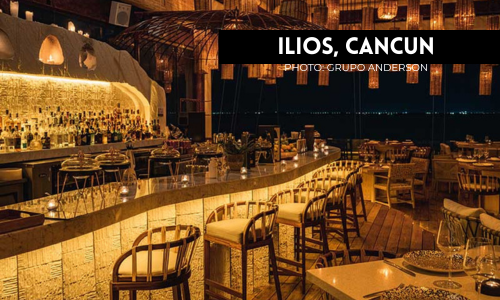 2. Cancun, Marbella
This restaurant offers a fusion of Mediterranean and Mexican cuisine. The menu is extensive, offering something for everyone. The pieces of the interior embrace your senses.
3. Cozumel, Buccanos
This beachfront restaurant offers fresh seafood, grilled meats, and delicious cocktails. The seafood platter is a must-try and the ambiance of the place is pretty much awe-inspiring.
4. Puerto Morelos, Osteria Barocca
Satisfy your pasta cravings at Osteria Barocca with gorgeous views from its rooftop dining area. This Italian restaurant serves delicious homemade pasta, pizza, and seafood while providing a beautiful ambiance.
5. Playa Del Carmen, Harry's
If steak is what you're craving, head over to Harry's. This upscale steakhouse offers a selection of wagyu, Angus beef, and prime cuts of meat. The wonderful decor and unique atmosphere elevate your dining experience to a whole new level.
6. Akumal, La Taverna
If you're looking for a cozy and intimate restaurant in the heart of Akumal, La Taverna is the right place. The Mediterranean-inspired menu features fresh seafood, homemade pasta, and delicious desserts.
7. Akumal, La Lunita
For a romantic dinner, head over to La Lunita. This beautiful beachfront restaurant offers a variety of International and Mexican cuisine. The ambiance, the beautiful beach view, and the music make it a must-visit.
8. Tulum, Mezzanine
If you're looking for Thai food with a beautiful view, Mezzanine is your go-to spot. Perched on a cliff overlooking the Caribbean Sea, this restaurant offers an extensive wine list, amazing cocktails, and a top-notch Thai menu.
9. Puerto Aventuras, La Dolce Vita
If you are a lover of Italian cuisine, La Dolce Vita in Puerto Aventuras should be on your list. The alfresco dining area and the scent of the Mediterranean create a beautiful atmosphere to enjoy a fantastic meal.
10. Isla Mujeres, Rolandi
For a classic Italian dinner on Isla Mujeres head over to Rolandi. This restaurant offers amazing thin-crust pizza, delicious homemade pasta, and perfectly cooked seafood. The location provides a perfect view of the sea and the ambiance is well quite romantic.
Restaurants in the Riviera Maya are not just about the flavorful food but the unique ambiance, activities, and entertainment as well. These ten restaurants are just some of the many great dining options available throughout the region. So, get ready to indulge in culinary delight on your next visit to the Mexican paradise.
Plan Ahead
These fine dining restaurants are among the most popular in the area so be sure to make a reservation to avoid long waits.  Locogringo's concierge is here to provide guests with the best services during their stay at no extra cost.  Contact us for more information and details about reservations and finding the vacation rental you most want in Riviera Maya.