17 Sep 2019
Akumal is known as the 'Place of the Turtles' but it is also the home of Yal Ku Lagoon, a unique snorkeling adventure in a coastal lagoon. We love that Yal Ku adds to your turtle snorkeling in Akumal Bays and compliments your vacation activities. Yal Ku Lagoon is a inland lagoon that connects to the Caribbean. Fresh water from surrounding cenotes escapes to the sea in this area. The result is a calm waterway that mixes both fresh and salt water called brackish water and creates a home for many fish species. This natural estuary is full of both fresh and salt water fish in an area no deeper than 10 feet/4 meters. Families, beginner snorkelers or those seeking calm waters with an easy entrance gravitate to the area in search of fish and sea life. In addition to the beauty found under the water, the lagoon is filled with local sculptures, small sandy beaches, and hammocks to make your day a super tranquillo day both above and below the sea.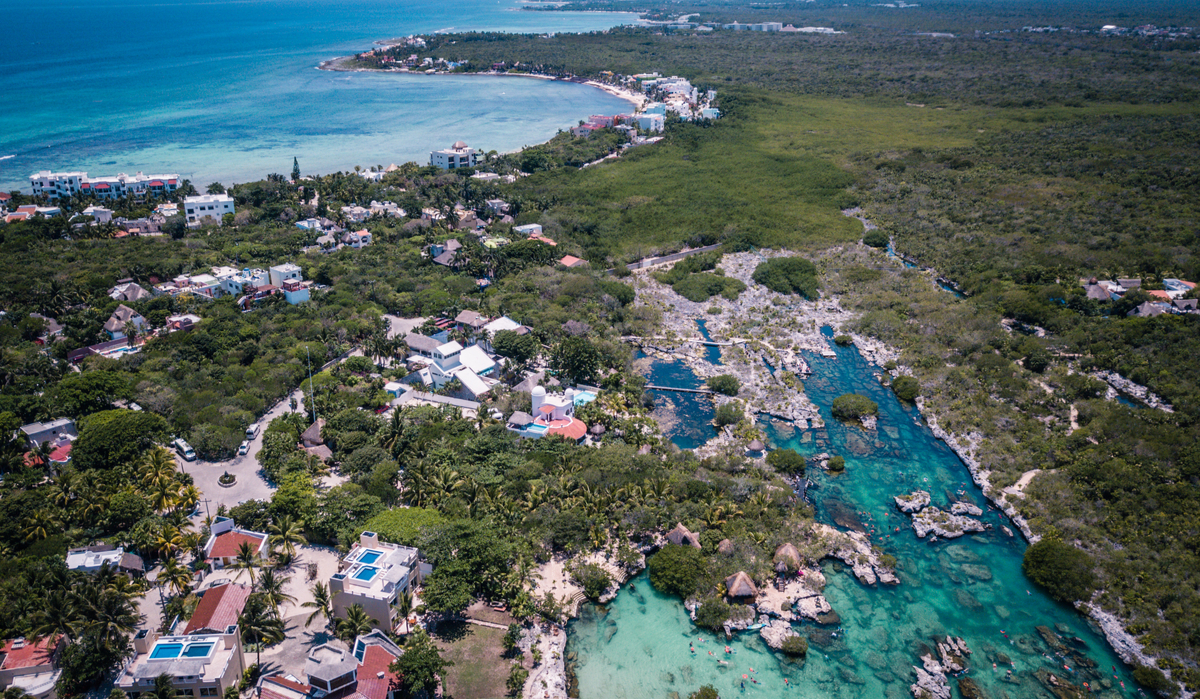 What to Expect from your Yal Ku Lagoon Adventure
Expect a great day! There is no other way to put it. Yal Ku Lagoon is big enough to keep you occupied all day long, with more fish and sea life than you can possibly identify. This is a do it yourself tour, guides do not take you through the lagoon, so you are free to snorkel as long as you want, where you want, and with whomever you want. The hammocks and beach areas are perfect for a rest, or if you brought a picnic, take a lunch break in between your snorkel adventures. There is a snack bar on site if you wish to forgo the picnic. The entrance fee is nominal and paid before you enter the lagoon. Snorkel gear and a snorkel vest can be rented on site. Lockers are available for valuables, towels, and a change of clothes. Free parking is in front of the entrance gate. Once you enter, all areas are free for you to explore. It is not unheard of to spend the entire day in Yal Ku Lagoon. Few visitors have actually snorkeled the entire lagoon in one sitting, even fewer have made it from the lagoon to the sea. Please wear biodegradable suntan lotion in this area to protect the sea life and tropical fish. We also encourage people to wear a life jacket to ensure safe snorkeling.
Highlights of Yal Ku Lagoon
This area has calm waters for new snorkelers, an easy water entry for young children, and enough fish and sea life to keep the advanced snorkeler entertained. The water is brackish so be prepared for cooler waters than the sea, but warmer waters than the cenotes. Visibility is also different than other bodies of water. It lies between the clarity of the cenotes and the slight haze found in the ocean. Nowhere else will you have this experience that is created naturally by the diverse eco system that defines Akumal.
What to bring on for your Yal Ku Adventure
Bring your snorkel gear, bathing suit, biodegradable sunscreen (sunscreen is not allowed in the lagoon), hat, towel, either pesos for lunch or bring your own picnic, water, and a change of clothes. If you are hoping to stay the entire day bring a book or games for the kids as there are great shaded lounge areas designed for hanging out.
How to get to Yal Ku Lagoon in Akumal
Yal Ku lagoon is located in North Akumal off the main highway. Enter Akumal from HWY 307. Head into the beach community through the main arches and follow the main beach road all the way to the end where you will find the lagoon. Signs are posted to help direct you to the parking area and entrance. If you are taking public transportation to Akumal, ask to be let off at the main entrance to Akumal. From here is it wise to take a taxi to Yal Ku Lagoon. For 60 pesos you will be dropped off at the entrance, saving yourself a hot 40 minute walk to the lagoon. Upon your return, ask the staff to call you a taxi to return to the highway. Check out other things to do in the Riviera Maya including snorkeling with the turtles in Akumal Bay. If you know that Akumal is your place, check out these vacation villas or condos for your next vacation.