15 Oct 2022
Day of the Dead a.k.a. Dia de Muertos is a holiday unlike most others and a unique cultural experience for travelers to experience when visiting Riviera Maya. Despite its colorful altars and decorative displays set up throughout Mexico, Day of the Dead is unlike most other holidays.
Things To Know About DOTD
First of all, it's a day of observance for the dearly beloved so phrases like "Happy Day of The Dead" are faux pax. Also, there really aren't Day of the Day parties like there are Halloween parties but there are plenty of ways for visitors to observe this beautiful custom during their stay in Riviera Maya. 
Visit Art Displays
Admire handmade exhibits and artwork on display throughout the coast. Walking through town squares in Valladolid, Playa Del Carmen, Tulum, and Akumal can be a rich cultural immersion for international visitors admiring the elaborate decor of the season.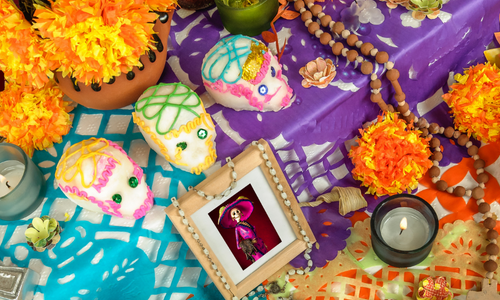 Create An Altar
Travelers can also partake and set up their own Day of the Dead altar in their vacation rental.  An altar can be as simple or as elaborate as one desires. The basic elements of an altar are an image of the departed, papel picado, and pan de Muerto. Papel picado can be made at home or purchased at gift shops and pan de Muerto can be found in every local bakery. 
Festival of Life and Death Traditions at Xcaret! 
Xcaret park will be opening its doors from October 30th to November 2nd to welcome travelers to enjoy the 16th edition of its Festival of Life and Death Traditions.  This year's event consists of various theater plays, musical presentations, workshops, dance shows, and even a space just for children in the Interactive Hacienda, and even a traditional Mass for the Feast of All Saints on November 1st.  
This year's special guest will be Tlaxcala, who will share their cultural richness and traditions, including gastronomy and beautiful artistic expressions.
Get your tickets!
This is one of the most sought-after events of the year so be sure to purchase tickets well in advance. You can also contact Locogringo for more information about visiting Riviera Maya this holiday season from Day of the Dead to New Year's!