3 Jun 2022
1000-Year-Old Race Is Still Going Strong!
After a two-year pause due to the pandemic, and an extra week of delay due to bad weather,  this cultural event was finally back in the Riviera Maya this May, 27th, and 28th 2022 at Xcaret Park. 
Over a thousand years ago Xcaret was a port and commercial center of great political and economic importance named Polé. Together with Kuzamil (today, Cozumel), was a major trading port of goods for the ancient Mayans, but also the spot of the traditional and spiritual celebration of Ixchel.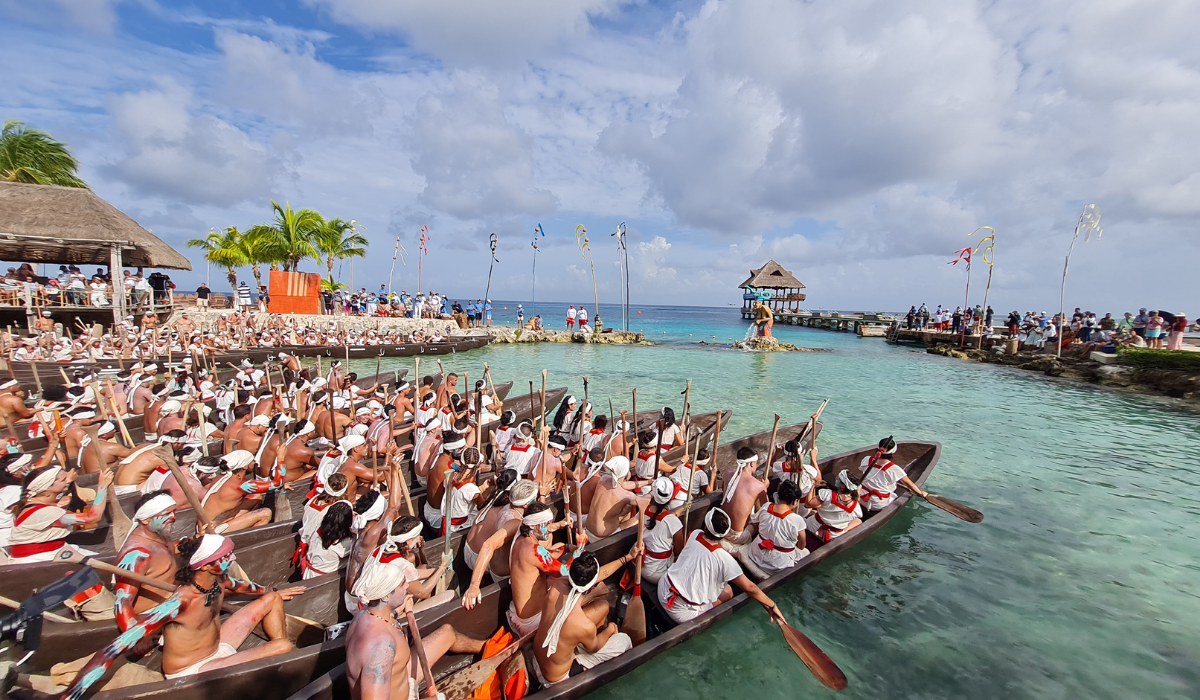 A Journey Of Devotion
The Sacred Mayan Journey is a ritual that has been performed for over 1000 years in the Riviera Maya by the ancient Maya. Originally, this sacred ritual was an act of worship to one of the most important Mayan Gods: Ixchel, the deity ruling over fertility, health, water, and vegetation. Today, the event recreates the traditional crossing of the sea on canoes from the mainland shore of Xcaret to Cozumel Island. 
People of coastal towns such as Xaman-Há, Xcalacoco, and Akumal used to gather at Pole. Starting at dawn, everyone carried out various preparations for the canoers, in addition to taking advantage of the time and place to trade a wide variety of products. 
A Modern Race For Local Athletes
Since 2006 this Mayan tradition has come to life once again in Playa del Carmen and is now embraced by the local people as part of their lifestyle. More than 300 men and women embark on this journey on a canoe from Xcaret to Cozumel Island and back again the next day at dawn, with a total distance of 34 nautical miles.
After intense training over six months, in which they test their physical and mental abilities, as well as their spiritual values, canoes depart from Xcaret Park. They cross the sea over a period of six to eight hours, depending on weather conditions, to receive the Ixchel Goddess oracle and row back to Xcaret the day after to share it with the community.
Who Can Visit Xcaret Park?
Guests staying just about anywhere in Riviera Maya can visit the original Xcaret Park in Playa Del Carmen year round. Of course, Xcaret Xperiences offer a wide variety of nature-oriented eco-parks along the coast from Cancun to Tulum. Some of the most popular include Xel-Ha and Yal-Ku in Akumal.
Contact Locogringo for more information about Xcaret Parks and where to stay in Rivera Maya for your next vacation.