28 Apr 2023
About Diving In Riviera Maya
Riviera Maya in Mexico is a famous location for water sports and activities. Amongst all the activities, SCUBA diving stands out as one of the most popular activities in the region. Riviera Maya is home to some of the world's most spectacular diving spots, offering divers breathtaking underwater experiences.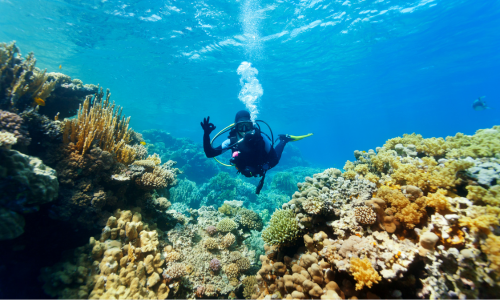 The warm and crystal-clear water of the Caribbean Sea makes diving in Riviera Maya an unforgettable experience. With a wide range of diving sites from shallow coral reefs to deep underwater caves, divers of all levels can enjoy SCUBA diving in Riviera Maya.
If you are looking for a place to SCUBA dive and at the same time have fun, then Riviera Maya is the perfect destination for you.
Cancun
Cancun, located in the Yucatan peninsula, is the most famous tourist destination in Mexico. With its white sandy beaches and clear blue waters, it is a dream vacation spot. It is also a perfect location for SCUBA diving. Cancun has many diving sites, including shallow reefs and shipwrecks. The Manchones Reef and The MUSA (Museo Subacuatico de Arte) are two must-visit dive sites in Cancun, where you can find many sculptures underwater.
Cozumel
Cozumel is a small island close to Riviera Maya, with a reputation as one of the best diving destinations in the world. It is home to the world-renowned Palancar Reef, which offers divers the chance to see the diverse marine life inhabiting the coral reef. Cozumel has a deep wall dive, which is one of the most adventurous dives in the region.
Akumal
Akumal is a popular destination for those looking for a more relaxed and laid-back diving experience. It is a small beach town where you can explore the various coral reefs and marine life, including sea turtles, without the crowds found in bigger touristy cities. The areas off Yal-ku Lagoon and Half Moon Bay is an excellent choice for those that are beginners, as it is calm and shallow.
Mahahual
Mahahual is a small fishing village located in the south of Riviera Maya. It is the perfect destination for those who want a more off-the-beaten-track adventure. With its untouched beaches and coral reefs, Mahahual is a treasure trove of marine life. Explore the Chinchorro National Park, which is home to the second-largest barrier reef in the world.
Banco Chinchorro
Banco Chinchorro is an atoll reef off the coast of Mahahual. It is a protected Biosphere Reserve, which has some of the most spectacular diving sites in the world. Banco Chinchorro is home to many species of marine life such as sharks, stingrays, and turtles. It is the perfect destination for advanced divers.
Contact Us
Before embarking on your diving adventure, make sure to get in touch with a qualified diving instructor or agency. They will help you plan your itinerary and ensure that you have a safe and enjoyable diving experience.
Riviera Maya has something to offer to everyone, from the experienced diver to the beginner. It is a perfect destination for those who want to enjoy a beautiful natural environment while having fun SCUBA diving. Plan your next vacation to Riviera Maya and create unforgettable memories.