25 Sep 2019
In 1986, the Mexican government established a 1.5 million acre nature reserve just south of Tulum beach. The Sian Ka'an (meaning "where the sky is born" in Maya) Biosphere Reserve is an Unesco World Heritage site and the largest reserve in the state of Quintana Roo. The reserve's rich biodiversity is amazing. Four different ecosystems inside the reserve are home to over 300 species of birds, over 100 different mammals, 1200 plant species and 52 different types of fish. Monkeys, manatee, crocodiles, sea turtles, dolphins and puma are just a few of the animals that live here, many of them on the endangered list.
There are no power lines here, everything operates on wind, generator or solar power. Sian Ka'an looks very much today the way it looked centuries ago, when the ancient Maya hunted these jungles. The main entrance is located on the south end of the Tulum beach at the stone archway, where just beyond await exciting nature adventures. Although 3 days is not nearly enough time to take in all the reserve has to offer, here is an itinerary of activities that will help you to get a good taste of what this paradise has in store.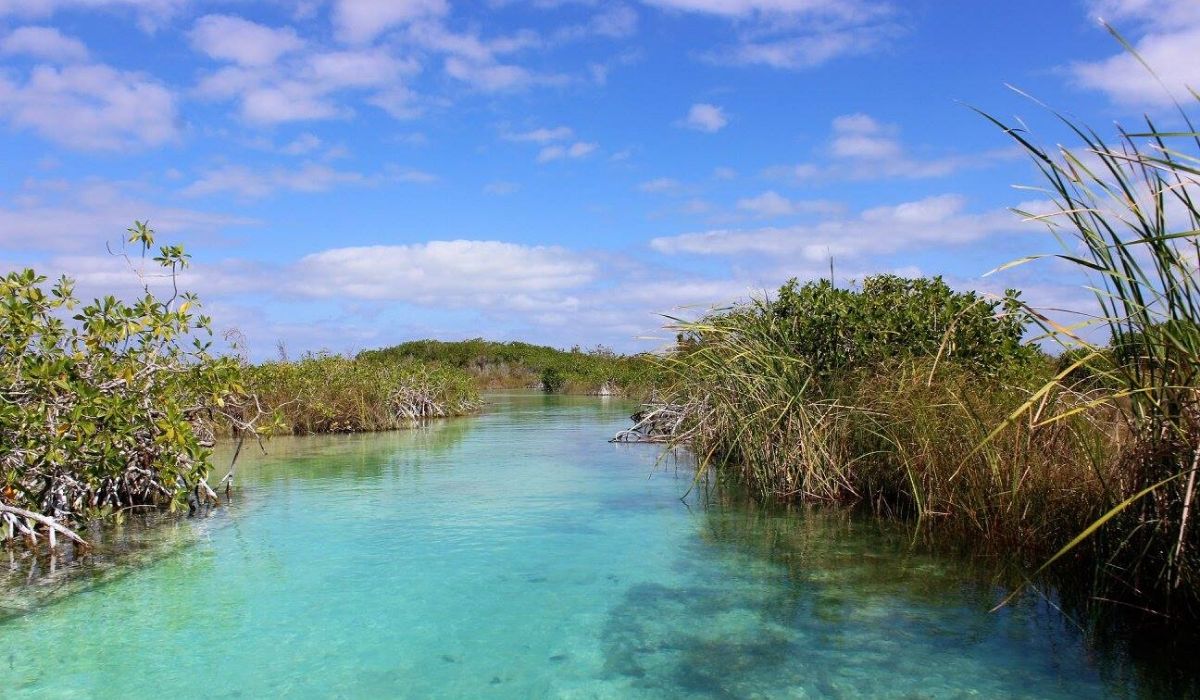 Day One
Spend your first full day inside the biosphere beginning with a boat tour down the ancient trade canals that were hand-dredged over 1200 years ago by Maya mariners. The mangrove waterways, bays and lagoons your tour guide will take you through are filled with birds, mammals and gorgeous, jungle vegetation. Afterward, snorkel the pristine Mesoamerican reef that is alive with bright coral and teaming with colorful, tropical fish. The full day tour includes a fresh seafood lunch and playing on a secluded, sandy beach.
Day Two
Get an early start and tour the Mayan ruins of Muyil. Be there at 8AM when the site opens to beat the jungle heat. This pre-Hispanic settlement is the largest and the most notable of the 23 ruin sites found in the Sian Ka'an. It is believed that this settlement was occupied from 300BC to the early part of the 16th Century. A boardwalk pathway leads from the ruins to a large lagoon and an observation tower that allows for stunning views of the laguna and the jungle.
Go on a sunset birdwatching tour with Cesiak. With over 300 bird species living in the biosphere, this is a birder's heaven. Observe a multitude of birds such as the roseate spoonbill, boat-billed heron, frigate, osprey, white ibis, tri-colored heron, brown pelican and dozens of others. You will visit bird island, an isolated mangrove island which serves as a nesting ground for many tropical birds. The tour ends with a magnificent view of the sunset over the horizon in the land "where the sky is born." Because of its "magic hour" timing, this tour is a must for any nature photographer professional or amateur.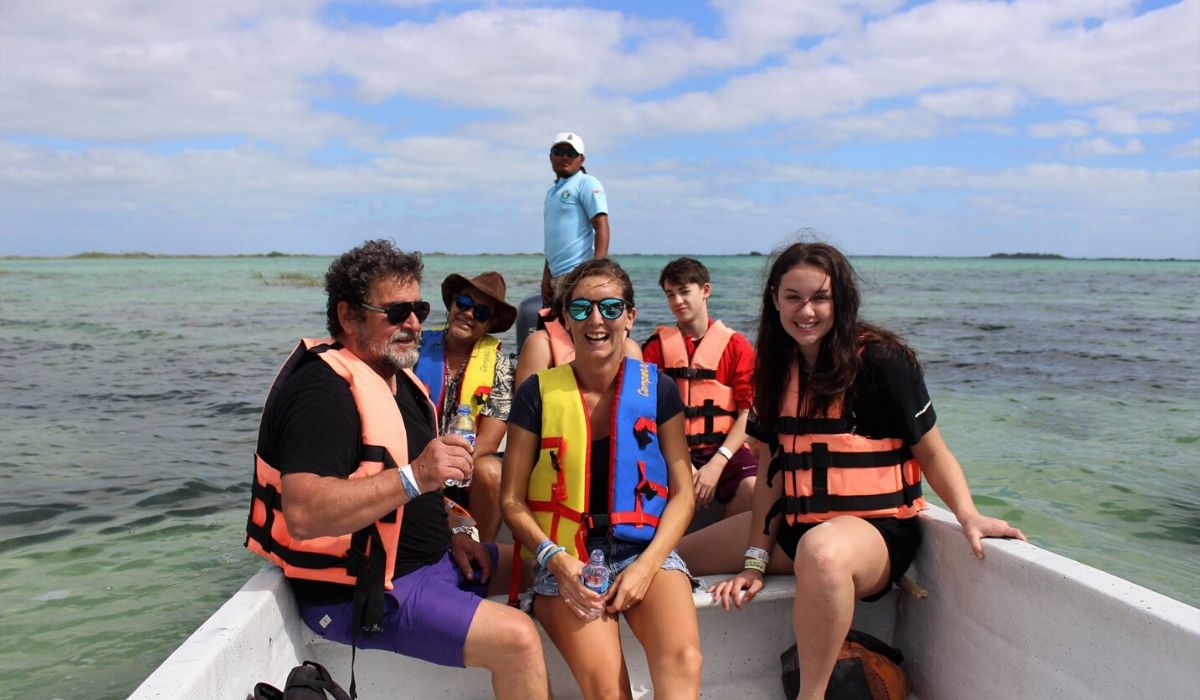 Day Three
If you are feeling adventurous and up for a little DIY, make the 30 mile trek down the coco road to visit the Mayan fishing village of Punta Allen. You will pass incredible beaches, and pristine mangrove estuaries. To break up the long drive (about 2 hours depending on the road conditions) stop and enjoy one of the raw, natural beaches. Chances are you will have the beach all to yourself.
Keep your eyes peeled while driving because you will also pass a couple of roadside Mayan ruins hiding in the lush vegetation.
Once you arrive in the small, coastal town of Punta Allen, you are bound to be hungry. Feast on a sumptuous lunch of the freshest seafood you have ever tasted and smooth margaritas at any of the rustic, palapa restaurants.
End your Sian Ka'an adventure with a little pampering at Maya Spa. Located on one of the most picture-perfect stretches of Tulum Beach just a few miles from Sian Kaan, Maya Spa has a focus on holistic healing with ancient Mayan techniques. Purify yourself in the Temazcal (indigenous sweat lodge) or relax with an organic facial or a Mayan massage. A delicious way to end an intensive three day exploration of the nature preserve!
If your budget allows, renting a private villa inside the Sian Ka'an is a very special treat. Vacation properties in the biosphere run on alternate energy and were built to be not only environmentally conscious, but to allow guests to take full advantage of this very unique location. Large outdoor living spaces with comfortable seating, terraces and balconies for bird's eye views, patios for dining al fresco, roof top observatories for star gazing, deserted Caribbean beaches at your front door and some villas even offer cook and spa services.
Cesiak is an excellent budget option for those who want to really immerse themselves in the outdoors. The luxury tent accommodations are a fun way to experience the reserve without sacrificing comfort and convenience. The eco-hotel has a restaurant and will also arrange tours.
For resort style pampering, the boutique, beachfront Sol Caribe may be just what you are looking for. With this hotel's all-inclusive options there is no need for you to pack much more than your bathing suit, binoculars and a toothbrush.
Where to Eat
Cesiak's lovely roof-top restaurant has a breathtaking view of the jungle and the Caribbean Sea. The menu is very fresh and inexpensive with vegetarian items also available.
At Xamach Dos enjoy fresh, local fare under a grand palapa on the beach. Breakfast, lunch and dinner all priced under $15 per person.
Sian Ka'an Tips
You will need to rent durable transportation like a Jeep to traverse the rough, sometimes heavily rutted, dirt road that runs through the reserve.
When touring the reserve, do not leave valuables in parked cars.
When enjoying the deserted beaches be especially careful of rip currents. There are no life guards around, or anyone else for that matter.
Always have bottled water and snacks on hand, and fill up the gas tank in Tulum as there are no services inside the reserve.
Be sure to show your tour guides your appreciation in cash as this is usually their only income.
Read more about Sian Ka'an adventures.