7 Jun 2018
A great vacation starts from the preparation. Securing your method of transportation before you arrive to Mexico, is key to enjoy of stress free holidays. Car rentals and airport transfers are some of the basics. But there are also other options less expensive and very practical to move around. In small towns like Tulum, Akumal and Puerto Aventuras bikes and golf carts are a good option. You would be surprised of how easy it is to book in advance. If your holidays in Riviera Maya are close, we recommend you to check with your Concierge, the best options on affordable transportation in town.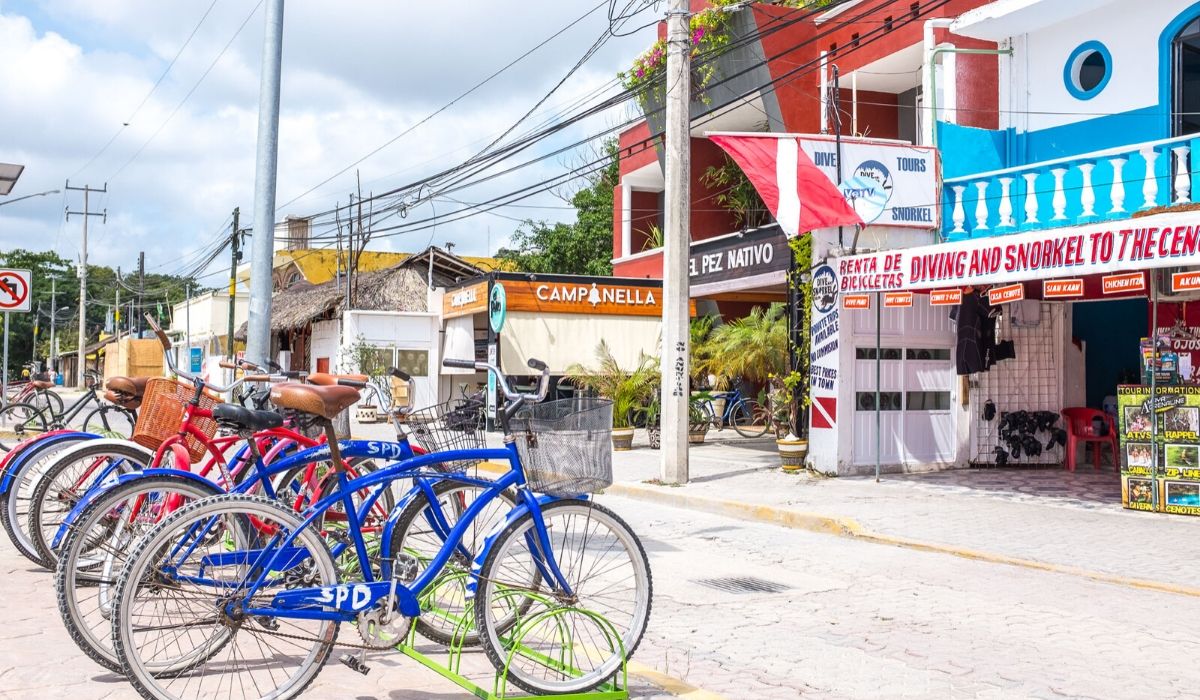 The Comfort Of Having A Golf Cart
Golf carts are the perfect idea for small families, couples, families with elderly people of families with kids. You can cover long distances in a very comfortable transportation. It is less expensive than car rental and for areas like Akumal or Puerto Aventuras is highly recommended. The rates go from $40.00usd to $60.00usd per day depending on the size of the golf cart and the location. Most of the companies also provide a weekly discount. All golf carts will come with locks and charges most of the time. You will also get the locations where you can plug it in to re-charge it. In Akumal Bay the golf cart rentals are great to visit Yal ku lagoon, Halfmoon Bay, restaurants like La Buena Vida and of course Lol-Ha. If you are staying in a Hotel in Puerto Aventuras, the golf cart will also give you the opportunity to visit the shopping area, golf course and restaurants. The deposit required is usually $60.00usd and is refunded when you return the golf cart in good condition.
Bike Rentals
If you need something less expensive than golf carts, your best option are bikes. Akumal Guide Company in Akumal Bay will provide both. Bikes are around $8.00usd per day and a refundable deposit is needed in cash. The manager also needs to collect a deposit in advance to guarantee the reservation. The bikes are provided with the lock and keys. Bikes are easy to deliver, so if you needed you can request a reservation in advance to have them waiting for you at your vacation home. They are the best option to explore jungle trails. In Tulum town you can rent them for around $150.00 pesos per day. And you can take them to the Sian Kaan area, we personally love to stop at coconut stands and little restaurants along the way.
Booking In Advance Is Key
We must advice our travelers that booking in advance is a very wise idea. There are travelers coming and going all seasons of the year. So it is best to secure your transportation with enough time before you arrive. Credit cards are not needed if you send a deposit through Paypal. If you are unsure about the availability of this type of transportation in your vacation area let us know.
We should be able to secure a reservation and sometimes even arrange a delivery. The months of November, December and January are the busiest of the year. We strongly recommend you to send your transportation inquiries to: concierge@locogringo.com with at least 2 months of advance. This way you have better chance to get a golf cart or bike booked for you. If you prefer other ways of transportation please call us: 512-782-9878, we would love to assist you with car rentals, private drivers or tailored day trips too!