31 Aug 2023

Tulum's famed Beach Road is far more than wellness and enlightenment fueled by post-yoga mimosas, beachfront cocktails, and after-dinner, starlit walks home.
This tiny stretch of coastline, only 7.5 km long, (roughly 4.6 miles), has quickly become the go-to destination for a rejuvenating beauty getaway. Here, you'll find every beach goddess' must-haves and beauty secrets hidden deep within the mangrove heart of the Riviera Maya.
One of the Tulum temples of beauty we like is Lolita-Lolita Tulum.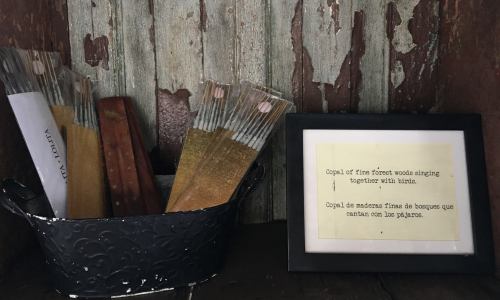 Beauty is Beyond Skin Deep at Lolita-Lolita
Lolita-Lolita Tulum is an integral concept of beauty that goes beyond skin deep. This is a space where beauty begins from what we take into our bodies, starting with a cup of coffee. 
Her petite figure and girlish grin immediately bring to mind Nabokov's muse, who inspired the brand name. However, when you hear her deep, sultry voice, which is like spicy Mexican chocolate, you will hang on to every word this modern siren has to share.
The inspiration for the Lolita-Lolita brand comes from her grandmother, who grew up in the countryside of central Mexico, where homemade natural remedies were passed down from one generation to another. Lolita Lolita learned to make body lotion, shampoo, and conditioner from her aunt, who learned from her mother.
Lolita welcomes clients as often as possible because she appreciates personal contact with customers. She will gladly sit with a client over a cup of Chiapas coffee to talk about life, love, and current affairs.
Lolita-Lolita Tulum is a unique line of skincare products and resort wear to stimulate the senses for both women and men. Under the palapa thatched roof, the shop is filled with body creams, candles, soaps, and oils made from the finest ingredients by local artisan hands. Its fashion line features seductive swimwear, lingerie, and beachwear, and its body care line is an aromatic symphony with notes of rosemary, lavender, and spices that will transport you back to Tulum once you're back home.
A participant in New York's Fashion Week, L+L has already opened up to larger enterprises that go beyond the beauty shop in the jungle, such as the Tulum Tree House project, which unites exceptional international design, artisanal traditions, and craftsmanship of the Yucatan region.

Five Lolita-Lolita Beach Goddess Must-Haves
While it's hard to choose favorites, here are our five beauty must-haves from Lolita-Lolita in Tulum.
Body Lotion — This formula is light as air and non-greasy. It's fast-absorbing, lightly scented, and perfect to keep your skin hydrated before you head to the beach. The new aluminum containers are reusable and come with a nifty safety travel cap to keep your belongings lotion-free in your bags. Price — $22 USD
Rosemary and Honey Shampoo and Conditioner — An original formula passed down for over three generations, these shampoos rinse freely and leave a faint hint of fragrance that lasts all day without being overwhelming. Price — $22 USD
Rosewater Facial Mist no. 701. — This is your best friend to cool off during the long summer nights and the ultimate mermaid hairstyle fix in a bottle. Need to freshen up your tresses but don't have time to wash your hair? Spritz this magical rose water on dry hair to revive last night's hairdo without over-stressing your tresses. Price — $24 USD
Pleasure Kit — This three-piece gift set contains a romantic candle to set the mood, a damiana extract for sexual stamina, and special lube made with a cold press and aphrodisiac oils—price — Approximately $69 USD.
Lolita-Lolita Tulum Hand-Carved Soaps — The aroma of these handmade soaps will immediately transport you back to Tulum instantly. These small handsoaps are made with essential oils and spices to entice the senses throughout your day. Price — Soaps vary in weight and fragrance and start at $12 USD.
How to Get There
Head east towards Tulum Beach Road and turn right after the first four ephemeral signs asking "If, Not, Now, When?". Keep heading south well beyond the fifth marker, reminding you to "Stay Present" until you reach the one telling you to "Follow That Dream" next to the Mexican flag waving right at Lolita's door.
If you stay near Nomade, Be Tulum or Suenos Tulum, you're only a hop, skip, and mojito away.
Ready to plan your next vacation escape and shopping adventure in Tulum? Inquire today about our vacation rentals in Tulum, which is practically next door to Lolita-Lolita and only a short stroll to all the best restaurants and beach clubs in town.