7 Apr 2018
Did you know that every single country in the world has their unique version of the empanada? Did you know that the first evidence of a empanada was found in Persia in 100 BC? Empanadas could be older than the Mayan archeological sites in Mexico and the history of this local food is as fascinating. Read on you too will be amazed at the long, detailed and documented history of this very popular snack and stable food. If you love Jamaican patties, samosas, mini calzones, roti, pierogis, turnovers or hot pockets, you will love this story.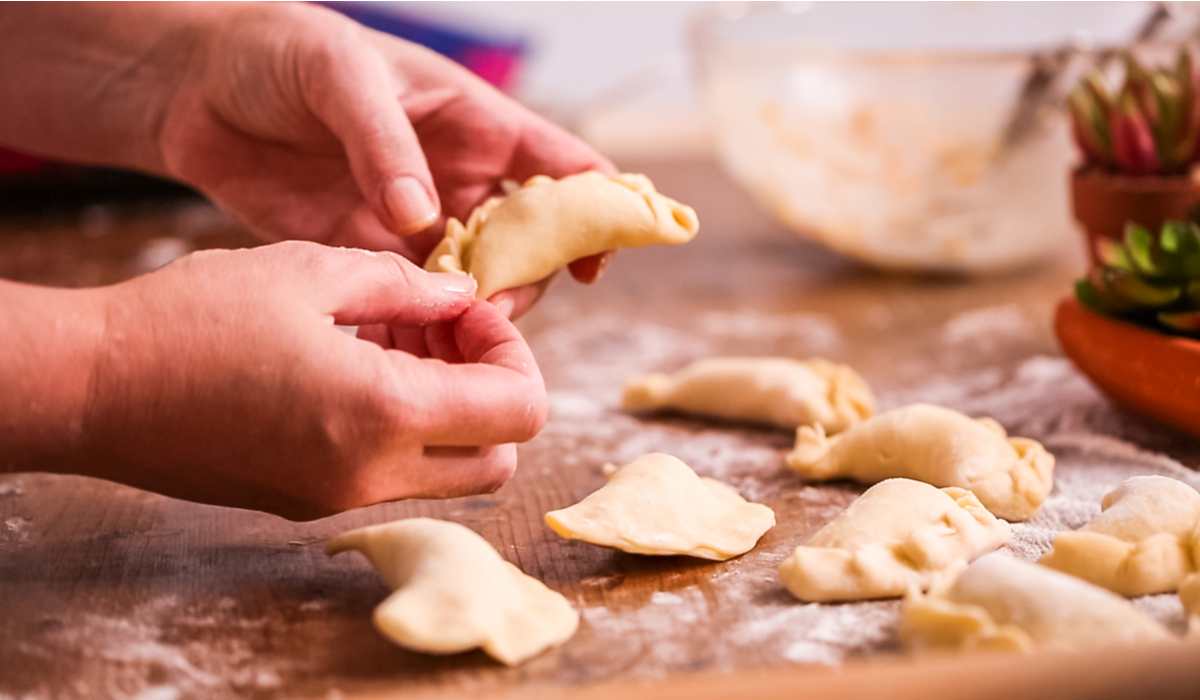 Digging into the History of Empanadas
I need to clarify that I am using the Spanish term for this snack food, empanada. In English these would be called patties, in British English pasties. Every single language, every single country has a word for empanada and a recipe to follow. The history is not only in Mexico, it actually reaches all four corners of the globe. Read on the find out.
So the first reference to empanadas was found in Persia and dates back to 100 BC. The second empanada milestone was the landing of the Moors in Gibralta where they shared this folded pastry with both Spain and Portugal. The Spanish loved it, created a their own term for it, and then went to work spreading their recipe worldwide as they conquered the West. One of the Catalan Chefs, Roberto De Nola added the empanada recipe to the very first published cook book in Spain in 1520, Llibre del Coch (Cook Book in Catalan)
When the Spanish hit the New World in the 16th century they shared their empanada recipe with the Aztecs and Maya. The Spanish recipe was made with bread dough, the Mexican recipe with corn masa dough. This is where Mexican empanada history takes over.
Each region in Mexico has their own version of the empanada. Some regions use wheat flour, some use corn masa dough, some are deep fried some are baked. You could spend your life traveling through the various regions of Mexico tasting empanadas, learning the different techniques, and putting together a book of all the various ingredients used to stuff this little parcels.
The Very Basics of An Empanada
The very very basics for an empanada to be called an empanada are a combination of three things; a dough, a filling and a cooking method. An empanada has to be in a half moon shape, whether that is a flat half moon or a three dimensional half moon, that is up to the region.
Before empanadas became a regional recipe within Mexico, all empanadas were made of corn dough, deep fried and stuffed with sweet fillings like pumpkin, sweet potato, or apple. As the recipe became regionalized this all changed.
Yucatecan Empanadas – Deep fried chaya empanadas stuffed with eggs and served with a tomato habanero salsa
Veracruz Empanadas – Volovanes de Minilla – This is a baked puff pastry savory empanada that is baked and filled with fish, olives, raisins, onions and pickled jalapenos.
Chiapan Empanadas – Empanadas Chiapacorenas – Sweet and savory baked pork empanada flavored with locally grown spices from Chiapas covered in a flour dough
Empanadas in the Riviera Maya – Where to Find
What we love about the Riviera Maya is the diversity of the local population which means a huge choice of regional foods. I admit I love the Yucatecan style deep fried empanada, and search these babies out where ever I go. Though the regional empanadas are stuffed with boiled egg, you will find cheese, chicken, ground beef, sausage, and potato stuffed varieties on the coast.
If a baked empanada suits you better, you can find Argentinian baked empanadas all over the place. If you are a food stall fan, regional Mexican baked empanadas are found on the side streets of Playa del Carmen.
What I have found in Puerto Morelos is a beach vendor that sells Veracruz Volovanes. For 30 pesos you will have a great meal and so many flavors to choose from. Last time I checked he had over 10 different volovanes. He is worth looking for on the beach, and he starts selling in the early afternoon. This is a popular local choice so act fast before he runs out!
Enjoy finding some of the best empanadas around!