21 Jul 2021
One of the most common questions Locogringo guests ask is "are there grocery stores on Half Moon Bay?". The answer to that is in between yes and no, or better yet Midway.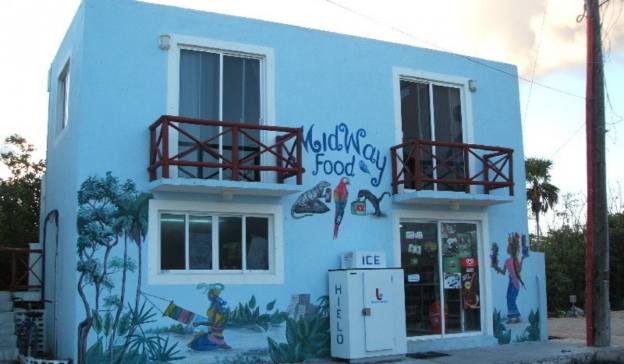 It's called Mini Super Midway. This is a small (and when we say small we mean small) convenience store where you'll find basic staples like salt, coffee, milk, eggs, tortillas, ramen, and pre-sliced ham and cheese. You can also find plenty of soft drinks and assorted snacks. More often than not you can grab some fresh tomatoes, onions, and if you're lucky enough, even avocados. 
Why We Love Midway
Mini Super Midway does its best to supply guests staying on Half Moon Bay and Yalku Lagoon with sundries in order to avoid them a trip all the way downtown. Especially, when you just have a hankering for some chips or candy and don't want to go on a full shopping expedition just for a chocolate bar. You can even get snorkels and masks so you can enjoy swimming during your stay.  
Where exactly is Midway?
Just like its namesake, Mini Super Midway, it's Halfway between Akumal Bay and Yalku Lagoon on Akumal Road. Right across the 4 story buildings of Playa Caribe and NIkte Condos. BTW The property often updates the paint on Midway's building so in some seasons its name is colorfully displayed and at times it's just painted white. Either way, the entrance is on the right side of the building. 
Still, looking for a grocery store near you in Akumal or need advice on where to stay in Riviera Maya? Contact us and we'll help you find the vacation rental you most want.