3 Nov 2021
Thanksgiving Dinner In Akumal Is A Big Deal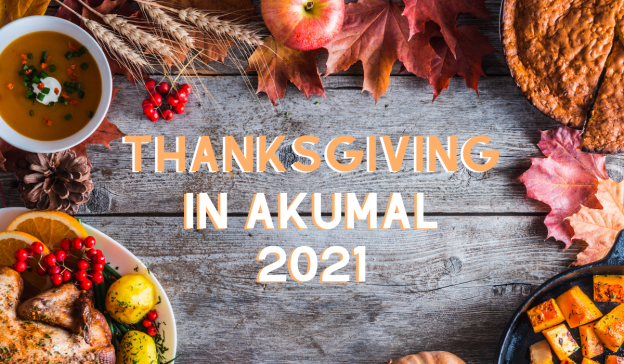 The holiday season in Riviera Maya has begun and this year's Thanksgiving Day dining options in Akumal are looking so good you'll want to start making plans now. Every year Akumal's best restaurants prepare mouth-watering Thanksgiving menus for friends and families to celebrate while in Mexico. Travelers can choose from beachfront dining, fine dining, casual family dining, and even full-thanksgiving dinner delivery. Locogringo has this year's menus ready for you to look through so you can start making your reservations in time. 
Lol Ha Beachfront Restaurant
Akumal's OG will be serving buffet-style dinner with Live sax music right on the shore of Akumal Bay. 
Roast turkey basted with Yucatan honey and apricot
Homemade gravy
Garlic chive mashed potatoes
Sweet potato casserole with salted caramel and bourbon with walnut topping
Poblano and broccoli cheddar bake
Pumpkin pie a la mode
Assorted ice creams with caramel and chocolate topping
Adults: $34, Children under 12: $15
Taverna Akumal Pizzeria & Risotteria
Akumal's favorite Italian restaurant will be having Live music from 7:30 - 9 PM to go with these special dishes for Thanksgiving Day.
Special #1 Pumpkin Ravioli with Brown Butter and Sage and Parmesan Cheese
Special #2 Oven Roasted Turkey Breast, Baked Yams, Green Beans, Cranberry Sauce, Gravy, and Stuffing.
Special #3 Apple crumble tart with vanilla gelato
Turtle Bay Cafe & Bakery
Everyone's favorite eatery known for its eclectic comfort food and traditional cuisine has become one of the most popular Thanksgiving Day venues for its cornucopia of dishes. 
Carmelized butternut squash with gorgonzola crostini
Harvest vegetable with pozole
Pibil roasted turkey with French bread stuffing
Candied Yams
Roasted garlic mashed potatoes
Roasted Brussel sprouts & corn
Cranberry mandarin orange relish
Bart's smoked turkey gravy
Plus a choice of dessert:
Traditional pumpkin pie
Chocolate Bourbon pecan pie
Apple cranberry cobbler
Lucy's homemade pumpkin ice cream
Dinner includes 2 Cueva cocktail drinks or 2 glasses of red or white wine. 
$43 Adult, $17 Children
Daveed's Chef Service
Make the most of your vacation rental and have Daveed's personal chef prepare and deliver Thanksgiving dinner at your door. 
Creamed corn soup
Cochinita Pibil Mayan style pork pibil served with special habanero sauce and handmade corn tortillas
Turkey tamales served with chocolate mole sauce
Green salad, caramelized peanut, dry cranberry, goat cheese with honey-mustard dressing
Mac and cheese
Glazed carrots
Beans with pork or regular back beans for vegetarians
Pie de Calabaza Pumpkin pie
$55 per person plus a $15. You also have the option to have a staff member serve for an additional $50.
Locogringo wants you to know that this holiday season is going to be a fun-filled vacation for everyone so make sure to book ahead of time to ensure your party will have the long-awaited beachfront celebration.