1 Jul 2022
The shoreline of Quintana Roo, in Mexico, is one of the sea turtles' favorites to nest, but this is not all the information you need to know if you wish to see them. The sea turtle nesting season along this coastline happens between May and October and those lucky enough to be here can see some nests or even hatchlings during their stay. 
NOTICE: Please respect these conservation tips and guidelines when observing turtle nesting or hatchings.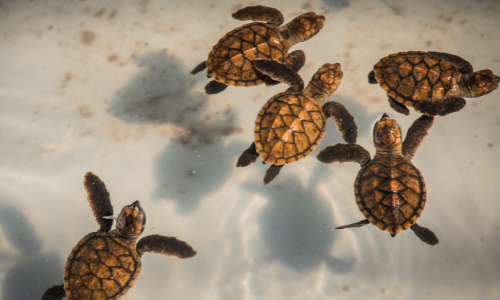 Momma Turtles Nesting
A fascinating part of this is that the female turtles come to shore at night to lay their eggs on the exact same spot where they were born.  Thanks to the cooperation of local volunteer groups like CEA (Centro Ecologico De Akumal), thousands of eggs of various species are marked so that beachcombers don't trample them. Nests are often protected with mesh or marked with signs so researchers can track the hatchling.
Please, if you are lucky to experience this, help protect these beautiful creatures with these simple steps:
If you spot a sea turtle on the beach at night let her do her job (nesting).

ABSOLUTELY NO flash photography of nesting sea turtles. This includes using flashlights or the light on your mobile phone.

Be very quiet and keep still and maintain a distance of ten meters (30 feet).

Do not attempt to touch the sea turtle or crowd around her.
Sea turtle hatchlings
The sea turtle release season takes place between July and November, with October being the peak month. These animals need three months to hatch. It's possible to see how the new hatchlings are born, how they break their shells, and how they try to reach the sea to start their lives there. Once the egg hatches, the newborns make their first journey towards the ocean, one of the most beautiful natural experiences you can live in the Riviera Maya.
Those lucky enough to see hatchlings should not interfere or touch the hatchlings at all. For starters, there's a risk of humans contracting salmonella which can disrupt the hatchlings' very own protective biome.
Important:  Sea Turtles are protected by Mexican laws such as NOM-059 of the Ministry of the Environment and Natural Resources (SEMARNAT), the institution in charge of environmental protection and sustainable development in our country. Therefore, our responsibility is to contribute to the process so that their beautiful birth cycle is completed. 
The sea turtle nesting season is an inspiring and unique moment, either to see the sea turtle nest or the babies' hatch. Observe, absorb and enjoy – only a few people have the chance to be part of this beautiful process! 
Find Best Vacation Rentals To See Sea Turtles
Guests staying at any of Akumal's 5 major bays have the best chance to see this one-of-a-kind phenomenon happen right at their door. Contact us and we'll gladly help you find the vacation rental you most want in Akumal.