26 Sep 2018
The Riviera Maya is world-famous for its beaches, ancient Mayan ruins, and vibrant Mexican towns.
But did you know that some of the best action in the Riviera Maya is found underground?
With more than 700 kilometers of caverns and cenotes, the Riviera Maya has an underground river system you can tour as an explorer, snorkeler, or even scuba diver.
Cenotes are fresh-water sinkholes once thought to be portals to the underworld ruled by Mayan gods. Thousands of them can be found all over the Yucatan Peninsula, and many more yet to be discovered.
With so many choices of cenotes to visit, how do you know which is the right one for you?
Each cenote has unique features. Some are true caverns with an overhead environment, while others are open to the environment and feel like a giant swimming pool. But what truly makes each cenote unique is what lies underneath the surface.
This is what defines and differentiates one cenote to another. It is what lies beneath the surface that makes every location unique and incomparable to another.
We have chosen the following five cenotes in the Riviera Maya and Yucatan because they are off-the-beaten-path or have other qualities that make them unique. This list of cenotes is by no means exhaustive, but it's a good start. For a complete list of cenotes not to be missed, please visit here.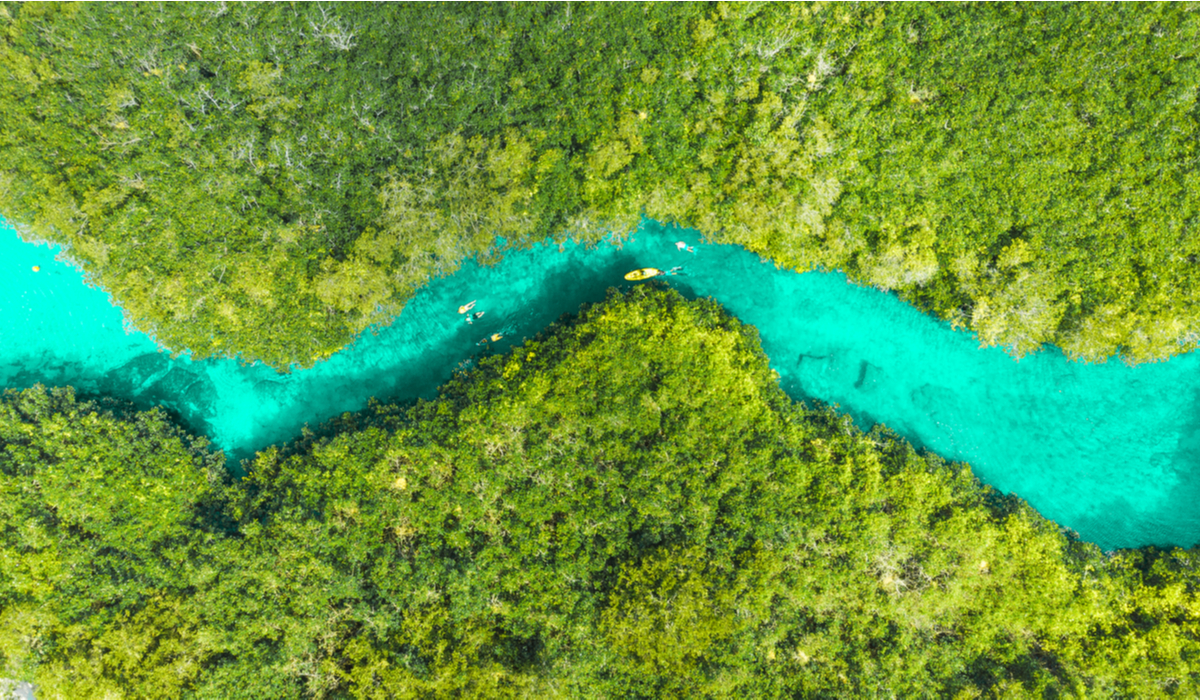 Cenote Manatee
cenote manateeJust steps away from the Caribbean in Tankah Bay, Cenote Manatee is an environmentally diverse place where you can experience both the sea and a cenote in one location.
Cenote Manatee is surrounded by mangroves and has both fresh and saltwater fish. Manatees also lived here once upon a time. You can swim, snorkel, kayak, paddle board and dive into this cenote or go across the street to the Caribbean where you can snorkel and see more sea life. Cenote dive trips are with a local guide only, but all other equipment can be rented on site.
Casa Cenote is a favorite local restaurant across the street. Known for its Texas BBQ and great ceviche, it is open for breakfast, lunch, and dinner, overlooks the Caribbean Sea, and has a bar.
Location — Located in Tankah Bay, it is possible to take public transportation to the road that leads to the cenote but be prepared for a long walk in. We suggest using a taxi or renting a car to get to this cenote unless you are lucky enough to have rented a vacation home in this precious location.
Dos Osos Cenote
Dos Osos Cenote is a full-day adventure.
Its name means "two bears" and not to be confused with Dos Ojos, another popular cenote in the area.
Dos Osos is a fresh-water cenote is a large, circular river with an island in the middle full of water slides. Kayak, swim, snorkel, and eat at this full-service cenote and water park.
The owners have coordinated many services at this location, making it a great family day and all-day cenote excursion. All equipment can be rented on site. Bring your bathing suit and towel and get ready to enjoy the day. There is a restaurant on site with both food and drinks. The water slides for the kids are super fun.
Location — Dos Osos is located 9 kilometers south of Tulum just after Cenote Angelita. Take public transportation or rent a car. The walk into the cenote is short, and you will be at the water's edge in no time.
Cenote Santa Cruz
Cenote Santa Cruz in Akumal is perhaps one of the Yucatan's best-kept secrets. It's been open for over 15 years, however, the owners are very ecologically minded and are careful to limit the size of each tour to very small groups and only three tours per day.
Unlike many other cenotes which are in many cases large open water pools where tourists splash about, Cenote Santa Cruz is a tiny entrance that begins in a dry cavern, and winds you through a unique 2.5-hour journey back in time.
As you explore Cenote Santa Cruz, you'll discover beautiful rock formations dating back 60 million years, clear pristine water, and several species of fresh-water fish and crustaceans.
The average water depth is waist-high for an adult but can be deeper in other portions of the cave system after rainfall. A mask and snorkel for viewing the aquatic life and other underwater features are encouraged. Swim fins are not necessary, and life vests and flashlights are included in the admission fee.
Location — Cenote Santa Cruz is near Akumal. Admission is by reservation only, and only small groups are allowed at one time. To reserve directly, contact our concierge to secure your admission.
Siete Bocas
Siete Bocas is just south of Puerto Morelos.
Its name means "seven mouths," which describe the seven openings into this vast system. Unlike other large systems, Siete Bocas does not have a single large opening. Each opening is small, and the system underneath has an overhead environment.
When you enter each mouth of the cenote by a short set of stairs, what you see is pretty spectacular. The light refracts, reflects and plays a few little tricks on you. The water is clear, blue and a cool place to take a dip. Combine this cenote with a trip to Puerto Morelos, and you have a spectacular day.
Location: 18 kilometers from HWY 307 on the Cenote Road just south of Puerto Morelos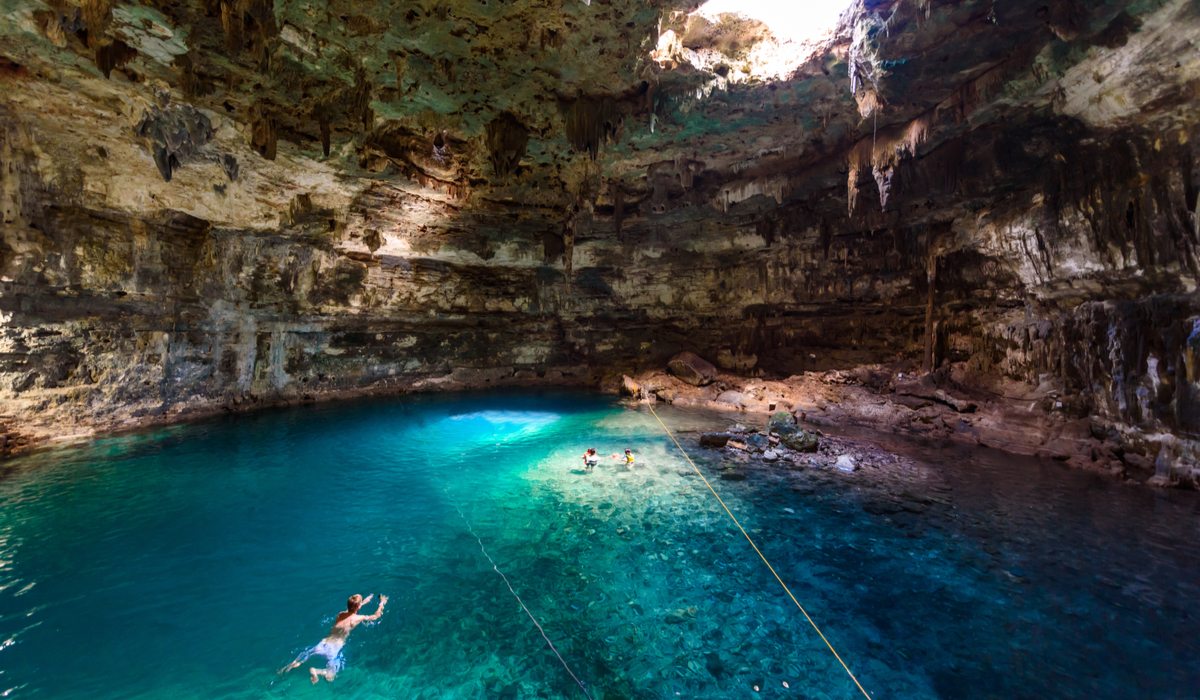 Cenote Samula near Valladolid
Cenote Samula is another reason to love Valladolid.
This deep sinkhole with tree roots growing wildly in the center is just 7 kilometers west of the city. Unlike Cenote Dzitnup, this cenote is not on the tour bus path. This means you may have this cenote to yourself or share with just a few other locals.
Combine this cenote with your tour of Valladolid especially on a hot day. Bring your snorkel and bathing suit so you can take a dip. The water is super clear in this cenote, and you will have a ball getting in and swimming around.
Location: There is little-published information on Cenote Samula so follow these detailed directions from the center of Valladolid. Take Calle 41A (Calzada de los Frailes), a street lined with colonial architecture. Go one block past the Templo de San Bernardino park where the Convent is and turn left on Calle 54. Make a right on Calle 49, which becomes Avenida de los Frailes and ends up at the old highway. Follow the road to Mérida, then turn left at the sign for Dzitnup and continue for just under 2km; Samulá will be off this road to the right and Dzitnup a little further on the left. If you are curious stop into Cenote Dzitnup but you may be there with busloads of Chichen Itza tourists.
What You Should Know
Each cenote property is privately owned, and each owner decides which services they offer. They also determine the entrance fees based on their services. Some have small restaurants, some have public washrooms. Some are just a place to swim with no services at all.
All are beautiful locations that showcase the environmental diversity in the Yucatan Peninsula. Nowhere else in the world will you see cenotes and caverns like this, which is why many places are popular dive and snorkeling sites.
Inspired to go on an underground adventure? Please contact Paulina, our concierge. She will help you find which cenote is right for you and secure your spot for available tours.