24 Aug 2023
The Riviera Maya has always been a magnet for travelers seeking sun, sea, and relaxation. But now, a new trend is making waves and adding an exhilarating twist to the classic beach experience: Cenote Beach Clubs. These new venues are redefining how we enjoy the stunning landscapes of Riviera Maya, offering a unique blend of fun, music, drinks, and a touch of adventure.
Unveiling the Trendsetters: Buuts' Ha', Vesica Tulum, and Neek Tulum
When the winds pick up, and the beach becomes less inviting, these cenote beach clubs become the ultimate go-to spots. Let's take a peek at three of the trendsetters that have captured the hearts of both locals and tourists alike.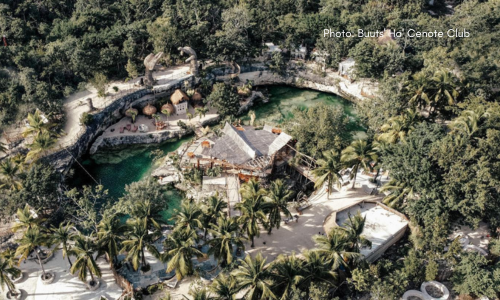 Buuts' Ha': Where Nature Meets Entertainment
Buuts' Ha' seamlessly fuses the beauty of nature with the excitement of entertainment. Imagine dancing to vibrant beats surrounded by lush greenery and enchanting cenote waters. This club brings the party underground, creating an electric and mystical atmosphere. Buuts' Ha' is the place to sip on creative cocktails, soak in the unique ambiance, and let yourself be swept away by the night's energy.

Vesica Tulum: A Luxurious Oasis
For those seeking a touch of luxury in the heart of nature, Vesica Tulum delivers an unforgettable experience. Indulge in the opulent surroundings as you unwind by the cenote. The combination of fine dining, expertly crafted drinks, and the tranquility of the cenote creates a blend of sensations that soothe and invigorate simultaneously. It's an oasis that caters to all your senses.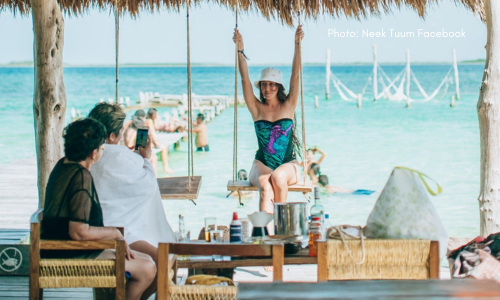 Neek Tulum: Bohemian Vibes and Cenote Magic
Neek Tulum transports you into a world of bohemian charm and lagoon magic. With its laid-back atmosphere and eclectic design, this beach club invites you to immerse yourself in the local culture and aesthetics. The lagoon becomes your playground, offering a refreshing dip between sips of your favorite cocktail. Neek Tulum encapsulates the free spirit of the Riviera Maya while embracing the allure of cenote exploration.
Why Cenote Beach Clubs?
These clubs aren't just a trend; they're a revelation. When the conditions aren't ideal for beach lounging, these cenote beach clubs step in to create an alternative that's as refreshing as it is exhilarating. Imagine dancing to the rhythm of the night under a canopy of stars, with the calm cenote waters lapping at your feet. It's a sensory experience like no other.
So, whether you're drawn to the vibrant energy of Buuts' Ha', the beauty of Vesica Tulum, or the bohemian charm of Neek Tulum, the cenote beach clubs of Riviera Maya are your passport to a world of adventure and enjoyment. This newest trend isn't just about changing how we experience the region; it's about redefining how we connect with nature, music, and each other in a setting that's as magical as it is exhilarating.
Contact Us for more information about visiting a cenote club on your next trip to Riviera Maya.