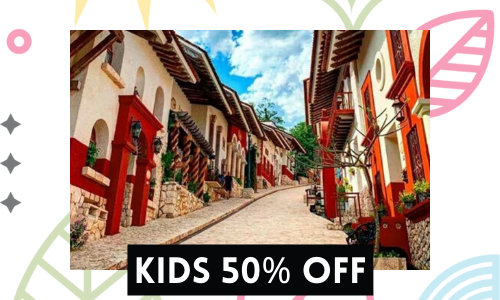 This Park Will Have You Doing Double-Takes 
Rediscover your senses at Xenses, the only half-day park in Playa del Carmen and the Riviera Maya. Feel like a bird on the Bird Flight zip-line or slide in the fast waterslide that leads into a cavern. You'll question reality when you visit Town, where you don't know if you're going up or down if up is down or down is up, and let your senses guide you in Xensatorium, a cavern in pitch-black darkness that houses all the ecosystems of the planet. Open your perception in Xenses.
What It Includes
Half-day experience in two paths of activities and more than 50 fantastic scenarios:
Pinwheel, is the departure point where the magic begins.
Path of Feeling: a fun Way of Dwarfs and Giants; different ecosystems in pitch black darkness at Xensatorium; a walk beneath the Earth in the Labyrinth of Underground Arteries; a place full of nature in The Eden; and a refreshing Xitric Garden in this trail known before as Consensible Circuit.
Path of Doing: get wondered with a big red Heartbeat; an original and nonsensical Town; a waterslide in Slip; a hover in the sky in Bird Flight; floating down the stream in Riverlaxing; and getting covered in mud from head to toe in the Sludgerie.
Incredible moments in visual games, optical illusions, and fantastic scenarios.
A Giftery to purchase very special souvenirs.
The Xnack area to delight yourself with tasty snacks and regain your energy (with extra cost).
Lockers, restrooms, and showers.
ATM and WiFi.
Free parking.