Get Directions
Cool Eco Park Adventure That Is Ranked A Top Attraction and Theme Park
Selvatica is one of the Riviera Maya's popular extreme zip line adventure tours that should be on your vacation to-do list if you are staying in Cancun or anywhere in the Riviera Maya!
Selvatica Extreme Zip Line Tours is called one of the "35 Greatest Adventures in the World" by Travel + Leisure Magazine. This "EXTREMO" Zip Line Tour is guaranteed to appeal to anyone looking for an adrenaline-pumping experience. Don't let the name fool you. This is a complete adventure above and below the jungle. Ziplines, ATV, cenotes and lunch!
Why Plan A Day Trip Adventure to the Selvatica Zip Line?
If we had to imagine a "regular" day for Indiana Jones, the Selvatica Zip Line and Adventure Tour would be as close as it gets. Imagine gliding through 2 miles of untamed Yucatan Jungle, zipping from one tree platform to another on the ultra-cool cables. Imagine feeling the wind in your face, butterflies in your stomach and a liberating sensation of freedom and excitement. Sounds great? We are not finished yet. Hop on an ATV and drive through the jungle. Dive into a cenote, and then take your pick how you want to get back to the start! Wow, now that is an adventure! But let's start from the beginning of this eco-tour…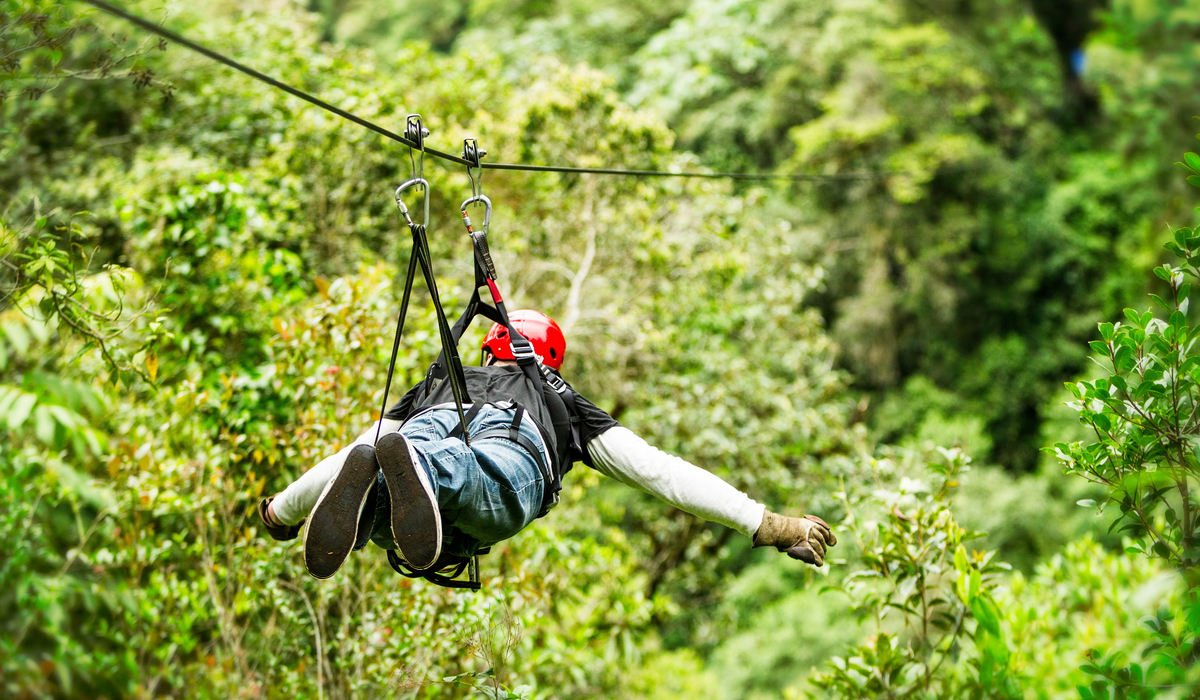 What Can You Expect From a Day Trip Adventure to Selvatica Zip Line?
As soon as you arrive at Selvatica Zip Line Park, you receive a 15 minute safety training talk, are assigned a locker, and take one flight of steps to the first zip line station. As soon as your stainless steel pulley is attached to the zip cable, you're ready to go! Note: If you feel that zip lining through the wild Jungle it's not "Extreme" enough for you, ask for "a cabeza" and experience the ride upside down! It's worth mentioning that Selvatica Zip Line was created by the same architects that built the famous zip line tours in the Costa Rica jungle. You can be sure that all of Selvatica's Zip Line Tours meet international safety standards. Their tours even accommodate adventurers as young as 3 years old. After the Zip Line adventure, there is another surprise waiting you – a fun ATV ride through the Yucatan jungle to a secluded cenote (freshwater sinkhole). Once there, you can either walk, dive or zip line into the refreshing waters of the cenote. The cherry on top of the day trip at Selvatica Zip Line park is a delicious, complimentary lunch, where you finish off the day and swap adventure stories with others.
How Do You Get There?
Selvatica is located about 12 miles (19 km) west of Puerto Morelos, between Cancun and Playa del Carmen. For those travelling from Cancun, the trip will take around 40 minutes. If you're driving from Riviera Maya, be it Puerto Aventuras, Akumal or Tulum it's also easy to find Selvatica Zip Line Park. All you have to do is take the highway in the direction of Cancun, and follow the road signs to the park. Give yourself an hour to make the trip from the south. The Zip Line tours start at 10:30 am, 12:00 pm, and 1:30 pm The entire trip takes about 5 hours, with 3.5 hours at the park, which leaves you plenty of time to get back to your Riviera Maya hotel and relax on the beach.
If you want to try another zipline park in the Riviera Maya, check out Xplor Park.