Get Directions
Eco-Friendly Fun In One Of The Area's Best Kept Secrets!
It's hard to believe that such a natural treasure is located so close to Playa del Carmen, right in the heart of Riviera Maya. For thousands of years no one stepped foot in this dry and wet cavern. Now this natural wonder, with its tunnels, underground passageways, caverns and rock formations is open to a limited number of visitors. Rio Secreto is the secret river in the Riviera Maya and an incredible view of the cave system people keep talking about.
Why plan a tour to the Río Secreto Underground River? The Rio Secreto cavern tour is an exciting, memorable and adventurous expedition that can only be experienced in the Riviera Maya. It's one of the few caverns in the world that is only partially submerged, making it possible to explore the caverns without extensive dive training and heavy equipment. A professional guide will take you step-by-step through your journey, unveiling the awe-inspiring facts about the Río Secreto's history and mystical tales of the Mayan underworld. If you are not big on visiting a cenote by yourself, this is a great place to view caverns and cenotes with a guide. Want to go? Book your tickets online.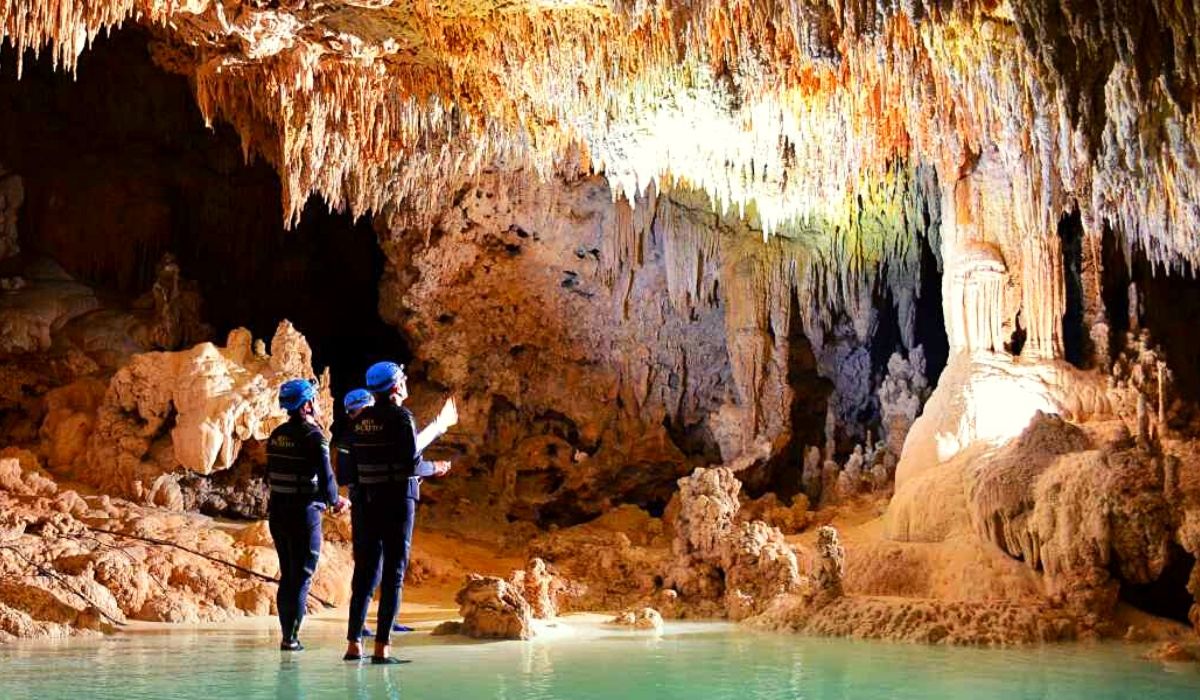 Tour Details of the Río Secreto Underground River
Upon arrival at the Río Secreto Underground River you will be greeted by an expert guide. You guide will show you to the lockers and provide you with appropriate exploring equipment (helmet, headlight and wet-suit) required for this hour and a half trip. After showering and changing into your wetsuit, you will take a spiral staircase down to the caves… and that's where your adventure truly begins! Words cannot describe the beauty that is waiting for you inside the Rio Secreto. Many people say that when they see the natural formations that decorate the walls of the caverns for the first time, they wonder if instead of being in Riviera Maya, they have actually stumbled into a different world.
Once inside the caverns, you'll walk, climb and swim in pristine blue pools of limestone rock-filtered water. You will walk through a maze of chambers, decorated with delicate stalactites and stalagmites that took millions of years to form. Enjoy the peaceful silence that surrounds this monumental artwork of Mother Nature. In the early 1990s we only experienced this degree of decoration in the Riviera Maya cavern system while cave diving. Rio Secreto opens up the underworld to non-divers and lets you see the true beauty of the Riviera Maya, the intricate and incredible caves and caverns created naturally under the jungle. At the end of the trip, enjoy your complimentary lunch surrounded by the jungle. Chill out in a hammock and take in this extraordinary natural location.
Getting to Rio Secreto and Some Tour Tid-Bits
Río Secreto is located near Playa del Carmen just off Highway 307. Tours run daily at 9:00 a.m. | 10:00 a.m. | 12:00 p.m. | 13:00 p.m. | 14:00 p.m. and groups are small, maximum 7 people per group. Advance reservations are recommended to ensure your best time slot. Note: The operators of Rio Secreto have gone to great lengths to preserve the cave in its natural state. There are no paved paths, extensive lighting or handrails that would take away from the natural, serene beauty of the caves (FYI – don't say 'no' to a walking stick). Taking pictures inside the caves is also prohibited. The tour is also not recommended for pregnant women, people suffering from claustrophobia, heart problems, or those who have difficulty walking. But children 4 years and up are welcome! And so are YOU!