Get Directions
Educational Animal Adventure in the Riviera Maya
Most Riviera Maya water and jungle adventures work hard to keep visitors at arm's length away from animals, fish or turtles that cross your path. Crococun has created an environment where feeding, petting, hugging, and interacting with jungle animals and reptiles is allowed and encouraged! Local guides work with Crococun visitors to make their animal adventure as on-hands as you can tolerate. Snakes can be picked up and held on your shoulders. Crocodiles can be petted. Birds can be fed and talked to. Watch it..they will talk back! Whether you are a kid or you want the kid in you to come alive, there is something to be said about an up close and personal experience with jungle animals that we are taught to fear. Crococun has been called a petting zoo, but we think it goes beyond that. The information, education, and opportunity this animal park provides goes beyond the typical petting zoo. Visitors learn to understand and respect the role and importance each species plays in the ecosystem. You will walk away with a very different view of jungle creatures.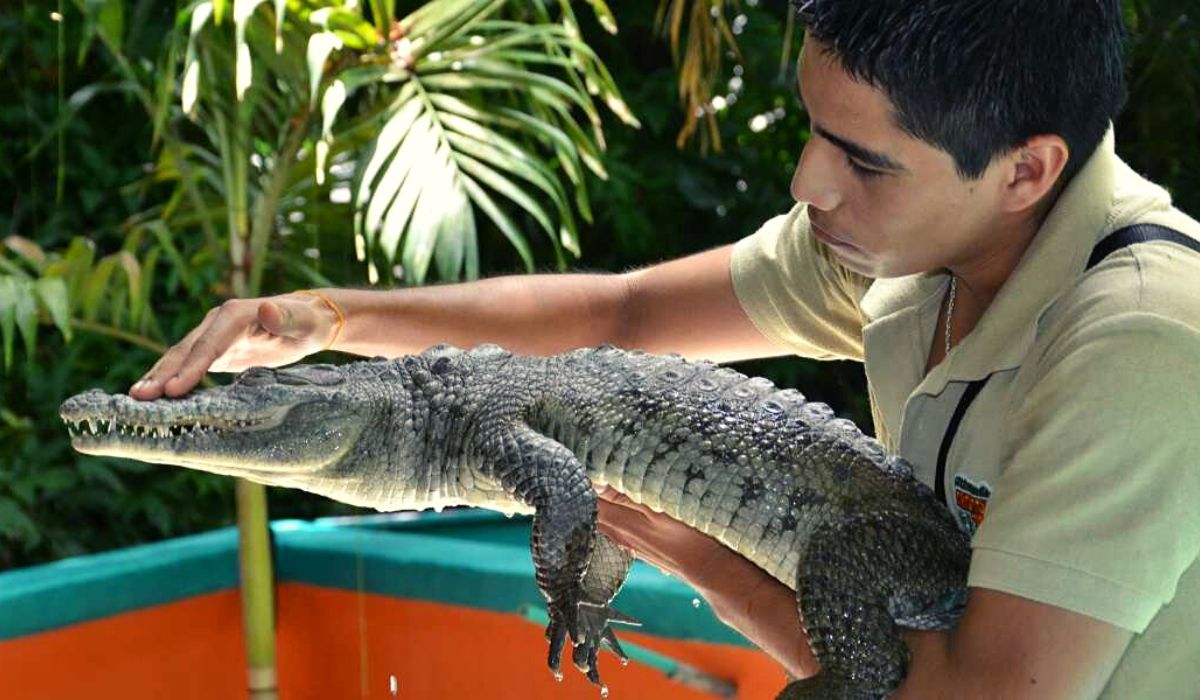 What to Expect From This Touchy-Feely Experience
Expect informed and caring guides who love the animals they care for. The mission of Crococun is to inspire a passion for all things natural. Consider this mission accomplished. The 60 to 75 minute guided tour (length depends on how brave you are) takes you through a detailed explanation of each species, how they live, and the importance they play in the ecosystem. Guides are experienced handlers of crocodiles, snakes, monkeys, and birds. Guides encouraged participation making this tour unintimidating and fun. The animals are the focus but the guides are what make Crococun more engaging, more fun, and a great experience for any age. These guys know their stuff and it shows.
The park itself is a maze of outdoor paths, ponds, and indigenous plant species, an environment familar to these creatures. This is the next best thing to seeing reptiles in the wild without the fear factor. When was the last time you were two feet from a crocodile with no barrier in between? This is possible at Crococun.
The property has a snack bar, Coffee Cafe, and a retail store to make this day complete. Cold drinks, sandwiches and salads are on the menu.
Finding Your Way to Crococun Interactive Animal Adventure
Puerto Morelos is located north of Playa del Carmen or south of Cancun. The park entrance is on the eastside of Highway 307 and easy to spot. Public transportation from any Riviera Maya destination is a breeze either by bus or collectivo. Ask the driver to let you off at Crococun.
Hours for the park are 9 a.m. to 5 p.m. with tours held hourly. Entrance to the park is $30 USD per adult, $20 USD for Children 6 to 12 years old. Children under 5 years old are FREE.