Get Your Snorkel Gear On and Get Into the Sea!
If you are a snorkeler or if snorkeling is on your bucket list, the Mexican Caribbean is a great place to make a splash and check out what is happening underwater. The crystal clear waters and calm seas make snorkeling an easy activity for everyone. Whether you are a beginner or snorkel enthusiast, the Riviera Maya is home to the 2nd largest barrier reef in the world, the Mesoamerican Reef.
Explore the Second Largest Barrier Reef in the World
Snorkeling in the Riviera Maya is as easy as that. The Mexican Caribbean is home to 400 fish species, 100 coral types and endangered species of both corals and fish that are hard to see anywhere else. Riviera Maya dive centers are happy to teach you to snorkel if you are a beginner, conduct personal guided tours of the best snorkel locations or rent you snorkel gear for your own snorkel excursion.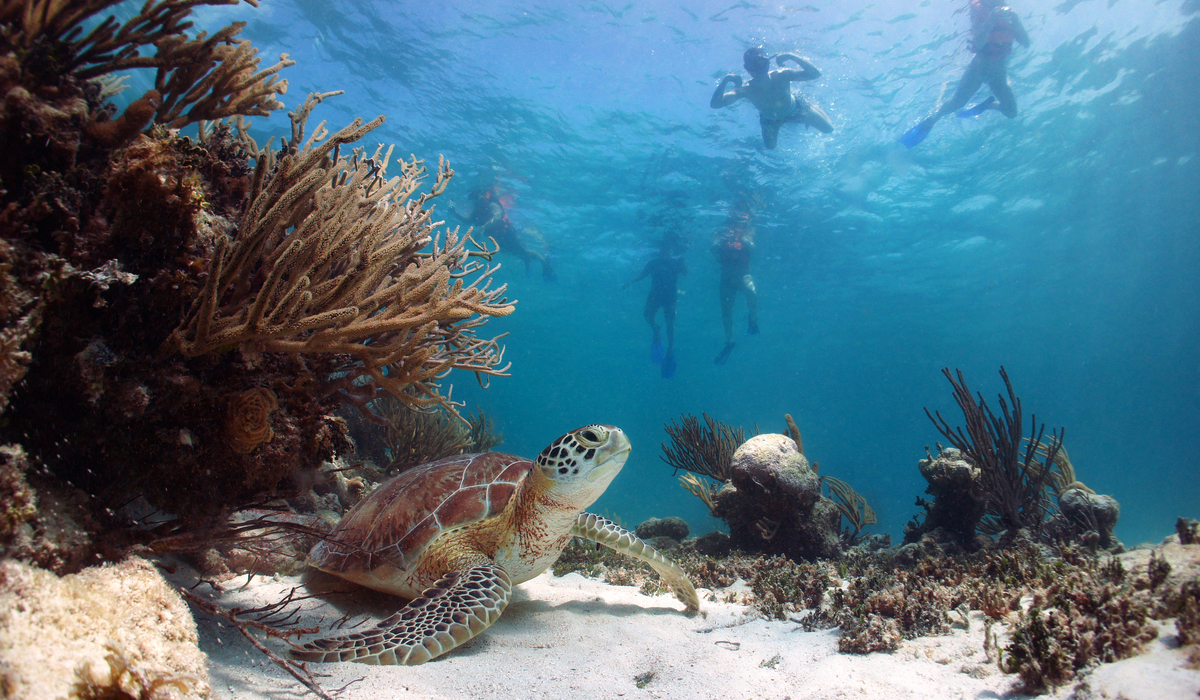 Snorkeling Highlights in the Riviera Maya
There are some unique off-the-shore snorkel spots that will make your snorkeling a little easier and whole lot more enjoyable. If you want to see fish and coral the reef offshore of any local beaches are perfect to explore.
Some of the best snorkeling is done by boat, as the Mesoamerican Reef is located half a mile to a mile off shore. Local dive centers, catamaran tours and independent snorkel guides are happy to take you on a tour of their secret spots. You will be guaranteed a great tour, local information, and a safe trip into the sea. Rental gear is included in guided tours and boat trips are short. Catamaran tours will take you to various locations on the coast, so if you are looking for a diverse snorkel experience this could be your best choice.
Akumal is THE Place For Turtles
Turtles can be seen every day off the beaches of Akumal, and not just one. You will see a few on a good day, and many on a great day. Fish and coral can be viewed as well, but Akumal is the place of the turtles.
Playa del Carmen has a small portion of reef off the shore of Coco Beach, a popular snorkel place that is close to shore. Boat tours will take you to shallow snorkel spots that have great coral and lots of fish!
Xpuha beach has a few coral clusters where you can see indigenous fish and coral types. These areas are not technically part of the Mesoamerican reef but they are still full of great things to see!
Paamul beach has a larger reef system close to the shore where you can see not only fish and corals, but lobster, rays and larger fish types.
All of these locations have boat tours that will take you to larger Mesoamerican reef snorkel spots. We encourage you to try both so you get a well-rounded view of the secrets that lie under the surface of the sea.
Snorkel Safety Tips and Rules
If you choose to venture out on your own into the Mexican Caribbean, keep these safety tips in mind. The sea is a beautiful place, but it has its own agenda. The sea off the shores of the Riviera Maya is calm, clear and glorious but if you are unfamiliar with the territory, or not sure of your skills, the sea can be a challenge.
Always snorkel with a buddy. Never snorkel alone.
Wear a life jacket in case you snorkel too far or get into waters deeper than you are used to.
Check that your snorkel gear is in good condition, and fits well. Losing a fin or breaking a mask strap can cause stress.
Have a surface buoy so water vehicles and boats and see you. Busy beach areas have a lot of boat and water vehicle traffic so you need to stick out in that big, vast ocean.
Have Fun Snorkeling and Do It Safely
Oceans and seas make up 73% of the planet. The Riviera Maya is a great place to learn to snorkel and an even better place to experience the underwater world. Master your skill or learn a new activity in the clear waters of the Mexican Caribbean. Take an underwater camera with you so you can show your friends and family all the great stuff you saw! Oh, and one last thing. Help us protect our reefs! Do not stand on, or touch the corals. Refrain from grabbing or handling marine life, including the turtles. And remember to wear biodegradable sunscreen.