Unforgettable Adventure – Snorkel the Cenotes
The ancient Maya believed the underworld was full of gods who controlled the forces of nature; life, death, and even rebirth. Today, we know Xibalba as an underworld, a labyrinth of caves and subterranean passageways that define the Yucatan Peninsula, Riviera Maya coastline, in the Mexican state of Quintana Roo. Why you want to snorkel in the cenotes is because you cannot do this anywhere else in the world! The cenotes make up part of the eco-diversity in this region of Mexico.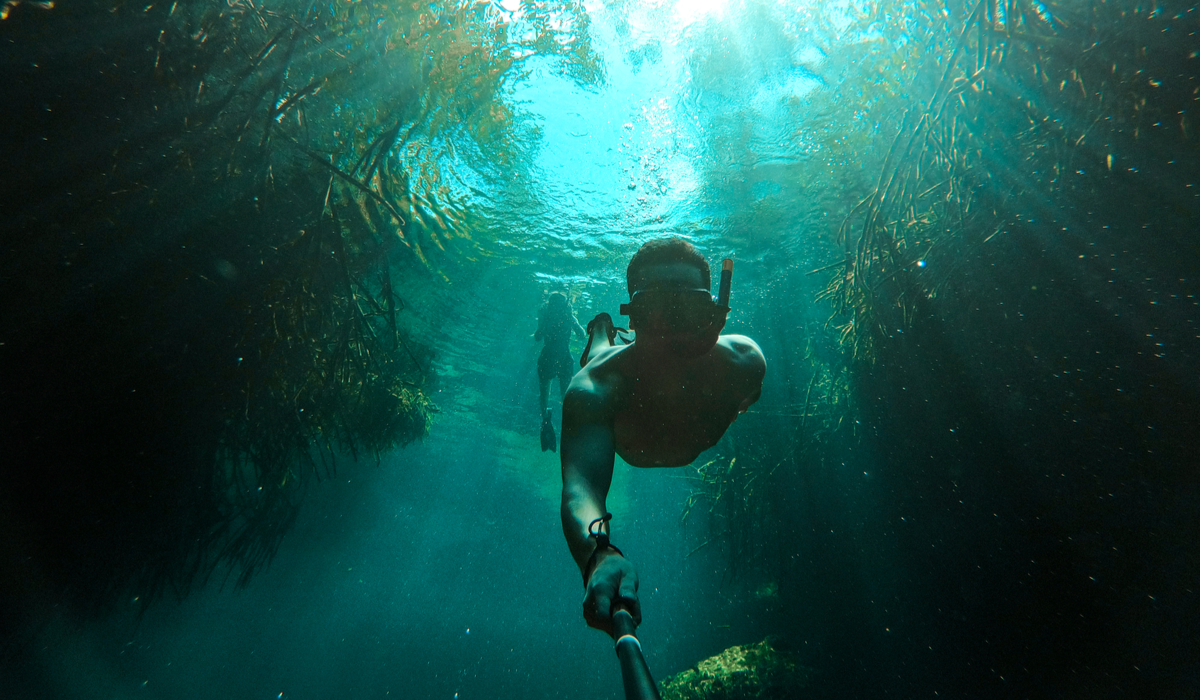 Sustainable Tourism At Its Best
Our first vacation and travel experience in the Riviera Maya was in a cenote. We traveled to the area to see for ourselves the rich bio-diversity located in the jungles just off the shores of the Mexican Caribbean. This first experience was with a local guide who explained the historical, geographical and cultural significance of these fresh water systems. After that, we went exploring on our own, and encourage you to take the same route. The wealth of information we learned from our guide was invaluable and helped us to dig deeper into the significance of these caverns. Snorkeling the cenotes gave us an inexpensive and easy way to explore each sinkhole.
Cenote Snorkeling is Great For Everyone
Cenote snorkeling is easier than the sea. Cenotes provide natural ledges, smaller snorkeling areas and you can drive or walk to a local cenote, a boat is required. There are entrance fees at each location, and prices vary depending on the property owner. Snorkel gear can be rented at some cenotes but not all, so if you need gear you may want to rent it at a local dive center before you venture out.
If you are not a confident snorkeler, take a tour first, learn from your guide, and use a life jacket. Then venture off to one of the many cenotes in the area and discover more about these underground river systems.
We have been known to visit a few cenotes in one day or have taken a quick break to unwind and cool off in a nearby cenote for an hour. You decide. Travel up the Cenote Road near Puerto Morelos to view a few cenotes. Take a tour through Aktun Chen Natural Park where you will find wet and dry cenotes. Or just pop into Casa Cenote in Tankah Bay for a quick dip, a snorkel, and some beach time after.
Cenote Snorkeling Tip: Help us protect this delicate eco-system. Wear biodegradable sunscreen, don't write your name in the silt, and if you are snacking or enjoying lunch while you are at the cenote, pick up your trash.