Cenotes – An Underwater Gateway to the Mayan Underworld & Adventure
The Riviera Maya offers an awesome diving experience for certified divers with this dive happening in the jungle, not the ocean! It's called Cavern diving, or Cenote diving, and it's the most unique diving experience in Mexico. Divers come to the Riviera Maya just to dive the cenotes; it is that unique. If you are open water certified and up for a new dive experience this could be for you!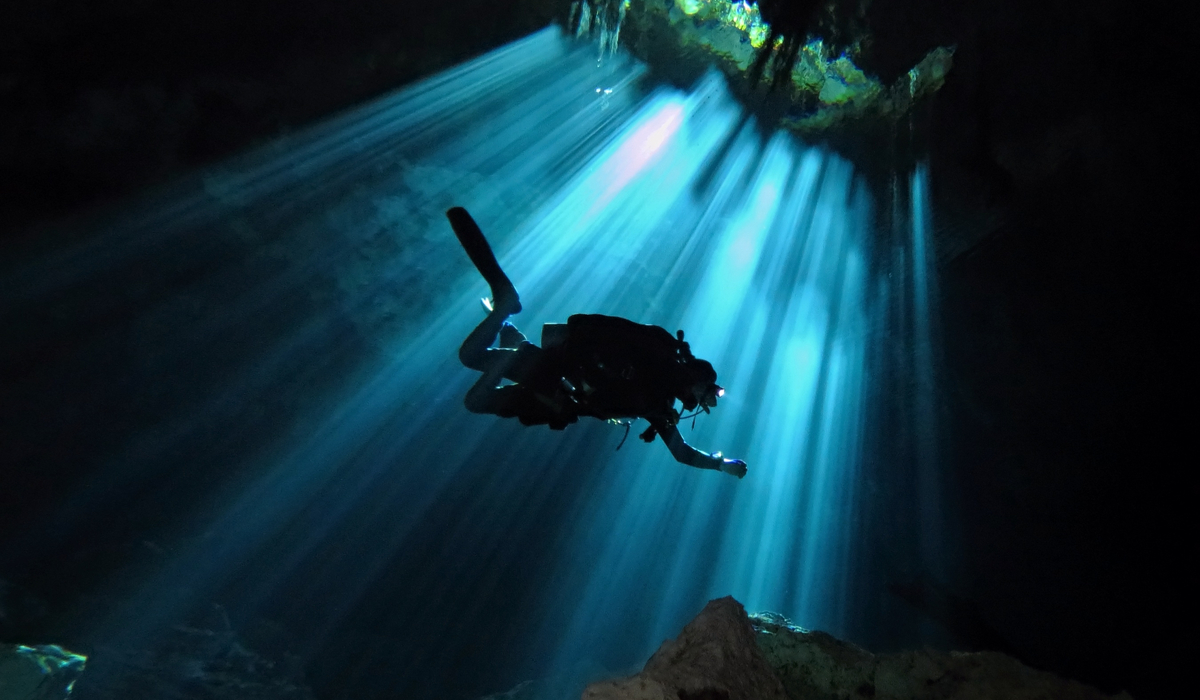 Discover this Extraordinary Environment
Cenotes are crystal clear natural jungle pools that often lead to spectacular submerged caverns. In the Riviera Maya these caverns are usually decorated with limestone rock formations called stalactites and stalagmites. Diving in a cenote is an experience in and of itself and it has scuba divers flocking here from all over the world to see this underworld. Diving in the cenotes, caverns and caves of the Riviera Maya was the sole reason we came to the area in 1992! It is that unique.
Cenotes are filled with fresh water and the visibility feels like infinity. In some cenotes you may discover a layer of saltwater below the freshwater. The layering effect is called the halocline and is similar to oil and vinegar. When the two waters mix the blur that is created looks just like an oil and vinegar mix. If you approach an undisturbed halocline you will see the distinct line between salt and freshwater. Super cool and seen almost nowhere else in the world.
What is Cenote Diving?
Cavern diving is diving from the open water pool of a cenote pool in full sunlight, down into a submerged cavern entrance. The cavern zone is basically where sunlight can still be seen with a distance restriction of 59 meters. Cavern diving should not be confused with cave diving, which requires a lot more training and allows deeper penetrations far beyond the daylight zone of the cavern. Most cavern diving in the Riviera Maya is offered as a guided tour where the guide has full cave training and knows how to prepare open water divers for a cavern tour. To take a cavern diving tour you will need Openwater Diver certification. Local dive centers will request that you show your diving certification, and may ask that you go on some open water dives first before you go on a cenote dive tour. Guides will be checking for diving comfort, buoyancy, and diver awareness, necessary skills to protect the ancient caverns and fragile environment.
What Makes a Good Cenote Dive?
All cenotes are beautiful, so a good cenote dive is really up to you. Find a great guide that you like, practice great buoyancy, listen to the dive briefing provided as cavern diving rules are a bit different, and relax. Cenote diving is nothing like ocean diving, but the experience is out of this world. Listen, learn and appreciate the natural work of Mother Nature that created these caverns millions of years ago. Respect the formations and please do not touch. Dive groups are small and intimate to ensure that you have a great time! Dive groups are limited to 4 divers with one dive guide.
What Can Be Seen In The Cenotes?
The draw to the cenotes is the unique limestone formations that decorate the ceilings and floors of the caverns. Stalactites and stalagmites fill the area with a few cenotes being the exception. Carwash and Casa Cenote are a wonderful mix between fish and formations due to the large open water area making these cenotes special.
Why Do I Have to Dive With a Guide If I am Open Water Certified?
Property owners restrict access to the cenotes. Local guides have access to caverns and are trained specifically in cavern guiding. Open water certification is required to dive in the cenotes, but cave diving rules are applied to your cavern dive. We want you to have fun, and the guides create a safe and fun environment.
How Do I Pick a Good Dive Center?
Whether you are diving in the sea, a lagoon or a cenote, a good dive center is one that you click with. Diving is not about price, it is about liking and trusting the dive guides you are with. Check out a few dive centers, talk to the staff and check them out. If you hit it off, likely this is a good fit. If something just does not sit right with you, move on to the next. There are a ton of dive centers to choose from in the Riviera Maya, so visit a few and chat with them. You undoubtedly will pick a good one!