Turtle Paradise of Riviera Maya With An Irresistible Beach
If you'd like to experience what the fine Caribbean beaches were like before the Riviera Maya became a hot spot for Hollywood stars, honeymooners and vacationers, head to X'cacel beach. It's the #1 beach where turtles go, and a local favorite! Nestled away in a remote location, enjoy soft sand beaches, a small freshwater cenote and off shore snorkeling that is accessible from the shore.
Located between Chemuyil and Xel-Ha water park, off highway 307, this remote beach area is easy to miss. Only a small number of people visiting Cancun and Riviera Maya actually get a chance to see it or in some cases find it. Recently, a large sign has been erected on the highway to help visitors find the beach, so keep your eyes wide open!
There is a different "group" of travelers that have their eyes on this unspoiled slice of Caribbean paradise. Every spring, numerous sea turtles travel for miles to lay their eggs in the deep, soft sands of X'cacel beach. This is a night time activity but the sanctuary works through the day to protect the nesting areas in the spring and the hatched turtles in October.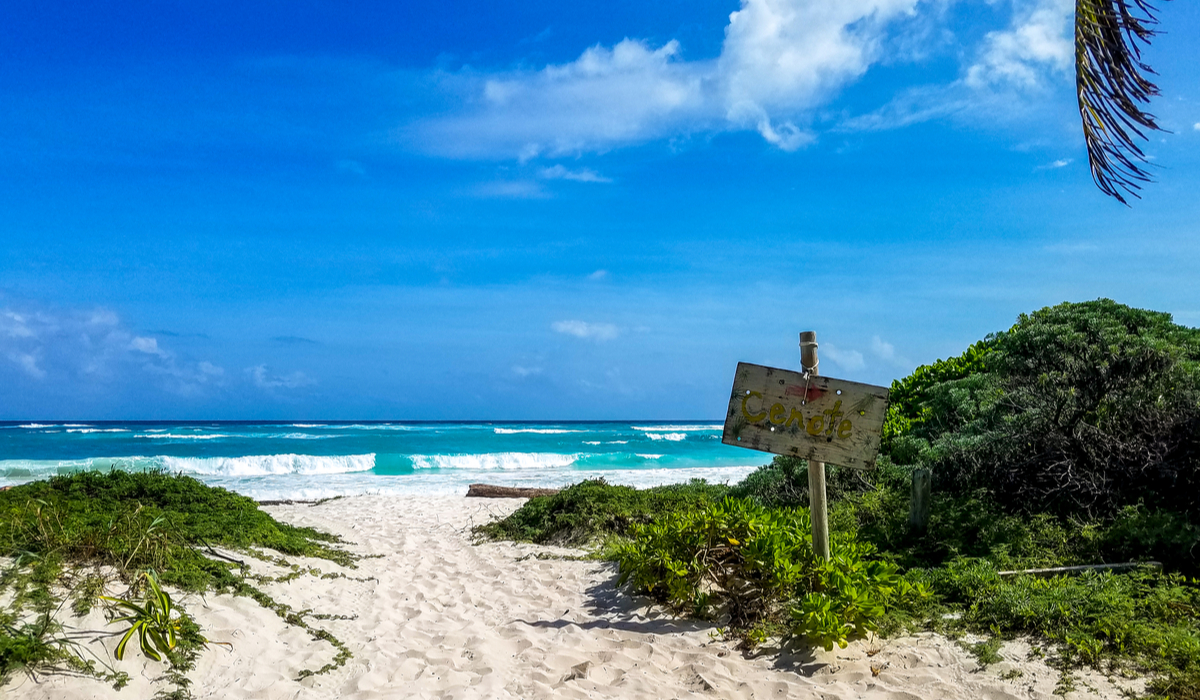 Turtle Nesting On the Shores of X'cacel Beach
If you visit X'cacel beach during the spring and summer months, you'll spot raised mounds of sand here and there. These are the turtle nests. When the time comes, hundreds of baby sea turtles crawl out of the sand to follow the moonlight into the clear waters of the Caribbean.
When you visit X'cacel beach, the local sanctuary requests a donation of 10 to 20 pesos per person to ensure their protection program remains. This donation helps the ongoing research that goes on at X'cacel throughout the year. We find this a small fee to access some of the most private beaches in the Riviera Maya. This fee also covers your entrance into the small cenote that is hidden in the jungle off shore. Unknown to many, X'cacel has a small mangrove cenote for freshwater swimming. We have always thought of the cenote as a nice added bonus to our X'cacel visit.
In addition to the soft sands of the beach and the jungle cenote, X'cacel is a wonderful snorkeling destination. Snorkeling is best off the northern end of X'cacel beach where you will find a small but beautiful coral reef worth exploring when the seas are calm.
Note: The X'cacel beach is a secluded gem with literally no one around. If you're renting a car we recommend to park in designated areas close to the guard shack and leave all valuables locked within. As a friendly reminder, please watch out for raised mounds of sand and remove your litter from the beach.
The turtles will thank you!
A Word to the Wise: X'cacel Beach Beach
This is sandy powder beach with isolated rocks
Foot protection is not required in most areas
Swimming is recommended when seas are calm
Good snorkeling off the north end of beach
Beware of currents, stay near shore
Do not trample any raised mounds of sand (they could be turtle nests)
Parking is recommended in designated areas