Get Directions
Find Sandy Shores in the Resort Community of Playacar
Playacar is a gated resort community on the south-side of Playa del Carmen. This residential and all-inclusive resort area offers a long stretch of beach for resort guests and visitors vacationing in the vacation homes and condos of the subdivision. All Mexican beaches are public, but we have outlined some unwritten rules that apply to beaches in Playacar. We encourage you to go, just know the lay of the land.
Pure White Sandy Beaches That Will Take You as Far as You Want To Go
Playacar beach starts on the south side of the ferry dock to Cozumel in Playa del Carmen and runs along the entire length of the Playacar neighborhood.
The Playacar beachfront is always changing, due to seasonal trade winds and currents. There are some areas of the beach where the stretches of sand are wide, and others areas where the warm waters of the Caribbean stop just a few feet away from the beach umbrellas. Despite these changes, and they are unpredictable, there are many great places to put your beach chair or beach towel and enjoy the day.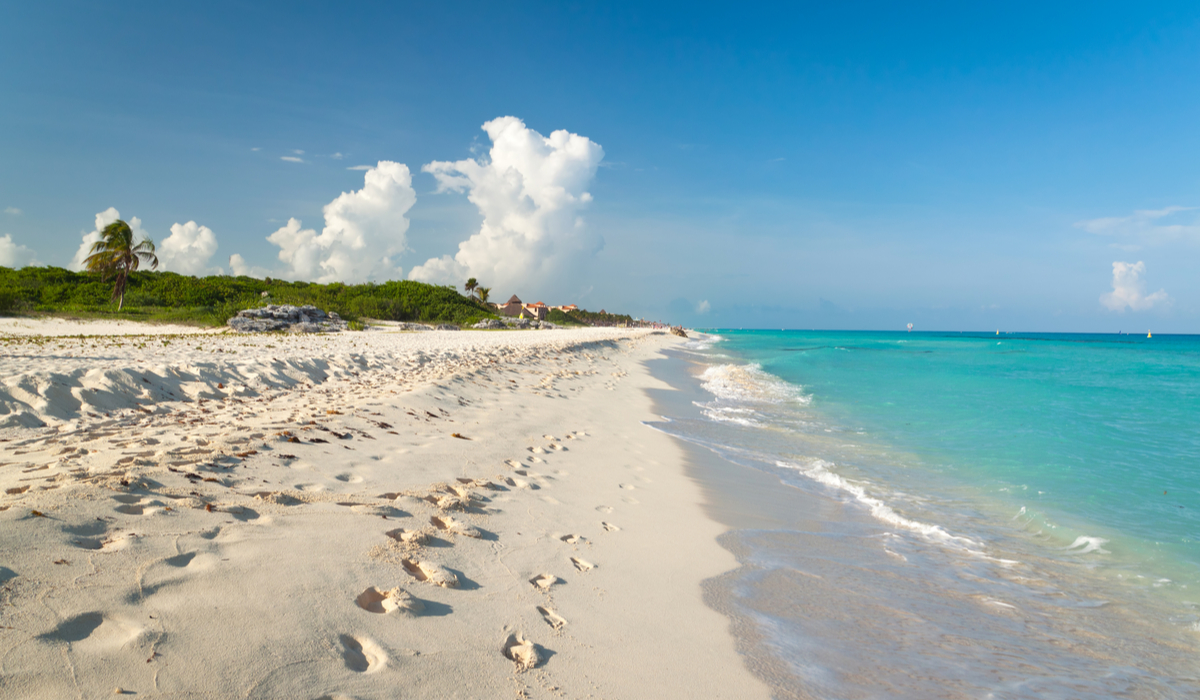 The Lay of the Land on The Playacar Beach
It is important to note that many of the Playacar beach areas are reserved for guests staying at all-inclusive Playacar resorts, condos and beachfront properties. If you see beach chairs on the sand in Playacar, this is a clear indication that this area is reserved for guests of the community, not passersby. Guests not affiliated with the resort, hotel or condo will be asked very graciously to find an alternative place to sit . To avoid this potentially embarrassing moment, move a bit to the south or the north of the beach chairs. This slight shift will also provide you with more privacy and less interruptions during your quiet beach time.
Take a stroll north along the beach in Playacar and you will find yourself stumbling upon the vibrant and cosmopolitan beaches of Playa del Carmen. Head south past the all-inclusive resorts and you will find more isolated, secluded beach areas nestled in between large rocks. Discover Inah beach where you will find great swimming, snorkeling and very private beaches in this small bay area. The distance is great but the reward is even greater!
There is minimal outer reef break to shelter Playacar beaches from the big ocean waves. In calm weather this part of the Caribbean is great for swimming and snorkeling, but on the windy days it's better to stick to beachcombing or shallow wading. Playacar beaches are just south of protection from the Island of Cozumel, so the seas are more turbulent during high wind days. Take a break and move to the central or northern Playa del Carmen beaches to avoid large waves
A Word to the Wise: Playacar Beaches
Footwear is not required in most areas for water entry
Snorkeling and good swimming are recommended when seas are calm
The beach areas and beach chairs in front of the all-inclusive resorts, villas and condos in Playacar are not for public use
There is minimal outer reef break
Playacar does not have public restaurants on the beach so bring your own snacks and water