Get Directions
RV Heaven of the Riviera Maya
When you strip a Caribbean vacation down to the basics, it should be about sand, sea, sun and having a super-great time. This is exactly what you'll find at Paamul beach. You'll have a great beach day here with snorkeling, diving or kayaking. enjoy ceviche, tacos and a cerveza at the beachfront restaurant. Locals and visitors enjoy this beach so check it out for yourself.
A Tropical Paradise For Locals and Snow Birds
Snuggled along the curved stretch of shimmering Caribbean waters in a small bay north of Puerto Aventuras, Paamul beach features white sands with some exposed limestone and lots palm trees on the beach for natural shade.
The laid-back beach living that many snowbirds take advantage of in Paamul is further enhanced by such amenities as a beautiful beachfront swimming pool, restaurant, Scuba Mex dive shop, a convenience store and private areas on the beach.
However, it's really the offshore coral reef that remains among the most breathtaking and well-preserved attraction on the Paamul beach. Zigzagging through the crystalline waters of the Caribbean close to the shore, the reef can easily be explored. Visitors and locals spend hours snorkeling, diving and kayaking, admiring the schools of iridescent fish, in the coral gardens of Paamul.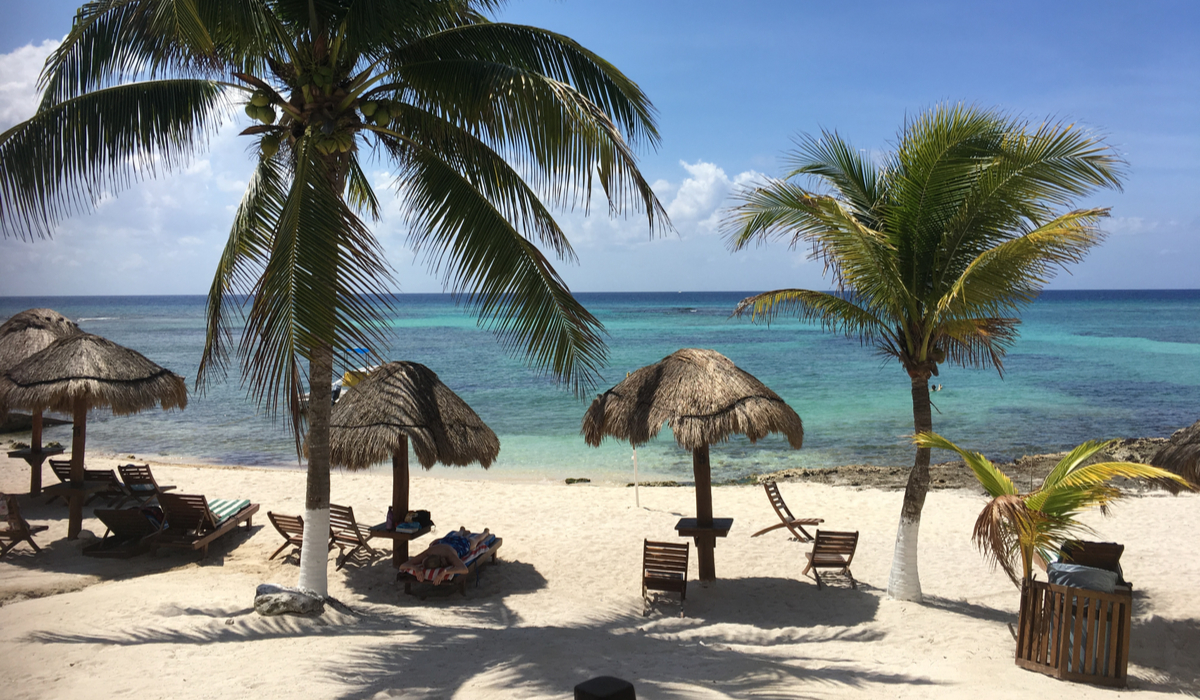 Getting To The Beach at Paamul
It's easy to plan day trips to Paamul from Akumal, Tulum, or Playa Del Carmen. Use your rental car, take a taxi or be adventurous and take a Collectivo, the local public van system that will drop you off in front of the highway entrance to Paamul. Paamul is 15 minutes from Playa del Carmen, 20 minutes from Akumal or 35 minutes from Tulum.
A Word to the Wise: Paamul Beach
This is a sandy beach with some exposed limestone
Footwear is required in most water entry areas
There's more sand on the south side of the beach for easier water entry
Snorkeling and swimming are recommended when the seas are calm