Entering Mexico via Cancun International Airport
Most travelers to the Riviera Maya enter Mexico through Cancun International Airport. Any person arriving in Mexico via international flights will be required to pass through both immigration and customs checkpoints.
First Up, Immigration
Foreign citizens traveling to Mexico must have a valid passport and complete an Official Entry Immigration Form or Tourist Card, prior to entry.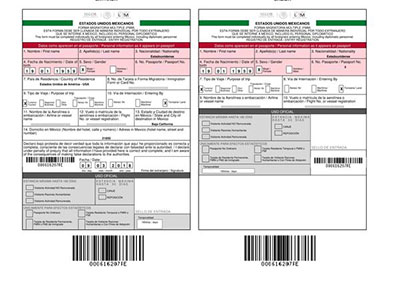 The Tourist Card is generally made available to you during your flight into Cancun by the flight staff. You now also have the convenient option of completing the tourist card online. With this option, you will print out your form and carry it with you.

A quick tip from the LG Team: If you will be completing your immigration form during your flight REMEMBER TO BRING A BLACK OR BLUE PEN with you. Airlines seldom have pens available for passengers to use. Bring some extras to pass around. Your fellow passengers will thank you :)
You will need the following information in order to complete your tourist card:
Your Contact Information
Your Passport Information (Number, Date of Issue, Expiration Date)
The full name and address of your accommodations in Mexico.
Your Flight Information (Airline, Flight Number, Point of Origin)
Filling out your immigration forms online is quick and easy. You will need an email address and a printer to complete the process and you must meet the following requirements:
You are a foreign citizen traveling to Mexico.
You have a valid passport.
You will travel to Mexico in less than 30 days.
You will not stay in Mexico for more than 180 days.
You are traveling to Mexico for pleasure, vacation, or recreational purposes.
You are NOT going to Mexico to seek employment.
You can find the form online at: https://www.mexicotouristcard.com/
Completing the form online means that your information is registered with Mexican Immigration Services prior to your arrival. Your immigration agent will be able to stamp your form and return it to you quickly. Welcome to Mexico!
KEEP YOUR FORM! You must keep your immigration form with you during your travels. You will be required to surrender this form at the time of your departure.
Collect Your Luggage and Head to Customs
After passing through Immigration you will be directed to the baggage claim area to collect your luggage. From here, you will need to pass through the customs checkpoint before leaving the airport.
You are required to submit a completed customs entry form at the checkpoint. Customers officers will collect your form, and ask you to press the checkpoint button. A green light means you pass through, a red light means a quick search by customs officers of your luggage.
Custom forms are usually given to you, along with your immigration form, during your flight. If for some reason these forms are not made available to you, they can also be picked up near the customs checkpoint. Remember that pen you brought with you? It comes in super handy here too
If you have further questions on what you can and cannot bring into Mexico with you, you can find more information here https://www.cancunairport.com/customs.html.
After customs, you will be moving towards the airport exit. As you near the exit you will begin to locate car rental agencies and tour operators. Right after exiting the airport doors, you will find shuttles, private ground transportation, and taxi services.
Those first few steps out of the airport might feel a bit overwhelming. We get it! We would be happy to walk you through your specific arrival if you like. Please feel free to shoot us an email and our team will gladly help you with further details!